Moscow tut-tuts arms supplies to Syrian 'liberated areas' citing Hatla massacre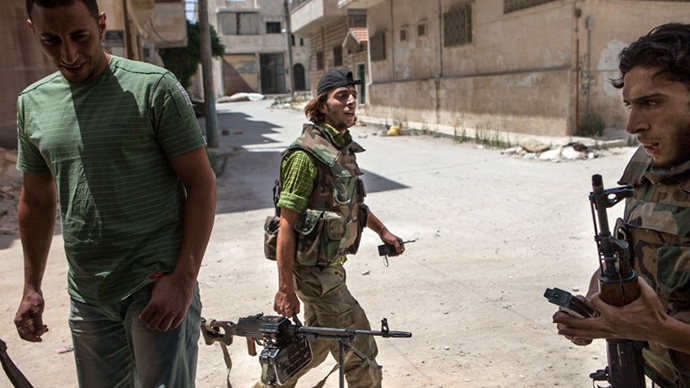 Russia urges prevention of "bloody chaos engulfing Syria" after the Obama administration approved additional arms supplies to Syrian rebels. Moscow questions the proposal for so-called 'liberated areas' as this may aggravate violence against civilians.
"Despite all efforts which are being taken within Russian-US agreement reached on May 7, violence in Syria is not easing," Russian Foreign Ministry spokesperson Aleksandr Lukashevich said Friday.

Lukashevich recalled Tuesday's massacre in Hatla village in Syria's Deir el-Zour region near Iraq, saying that there are forces which are "interested in continuing the military conflict."

The attack by opposition fighters on the Shia village that has been firmly under rebel control for more than a year claimed lives of up to 60 Shia Muslims, including old people and children.

"They are conducting terrorist attacks that kill innocent civilians, add fuel to the fire of the conflict, organizing confessional cleansing," he said, referring to the recent violence.

Shortly after the massacre a video posted online on Tuesday, entitled 'The storming and cleansing of Hatla', showed fighters waving the black Salafi flag and celebrating.

However, activists denied that the killings were sectarian, claiming that they were in response to an attack on a Free Syrian Army checkpoint by 30 armed villagers from Hatla.

The Syrian regime accused the Al-Nusra Front, linked to Al Qaeda, of massacring civilians.

Amid this raging violence in Syria, Moscow is confused by some countries decision to help the opposition on the so-called liberated territories.

"[We] would not like to think that territories are being 'liberated' the way it was done in Hatla," Lukashevich said.

The statement comes hours after the Obama administration authorized a release of at least some US arms for Syria's rebels as part of new military and political aid measures.

"There is little doubt that decisions on additional arms and military equipment supplies to illegal militant groups would drive up the level of violent confrontation and violence against innocent civilians. Especially, given that it comes amid calls to go further, to establish a no-fly zone over Syria to help not with just weapons, but heavy weapons," Lukashevich said.

At the same time, he stressed that UN's expert group did not find evidences proving that chemical weapons were used in Syria.

"However, the situation is alarming in this regard, especially given the reports about arrests of insurgents with chemical agents and even sarin gas in Turkey and Iraq," he continued.

Separately, Syrian Ambassador to Moscow Riyad Haddad has said that USA has been supplying rebels with arms for a long time and "on Friday they just announced that officially."

"Since 2011 the West, led by the United States, has supplied weapons to terrorists in Syria, but today they just announced it officially," he told Interfax news agency.

The Russian Foreign Ministry has insisted on peaceful solution of the conflict and stressed its firmness in its adherence to holding a peace conference.

You can share this story on social media: