Moscow urges US: 'Cooperate with both sides of Syrian conflict'
Published time: 13 Jul, 2012 14:41
Edited time: 13 Jul, 2012 18:41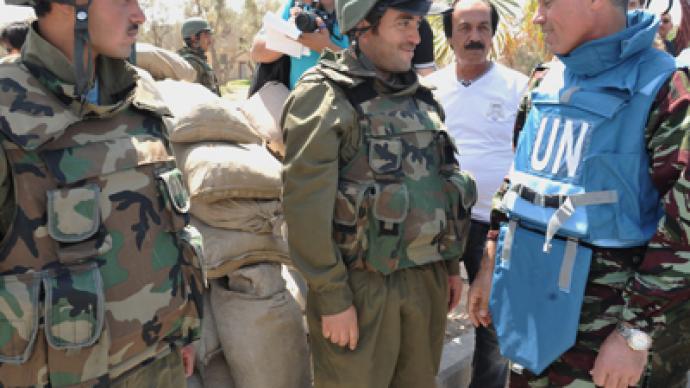 In an effort to bring the ongoing crisis in Syria to a peaceful settlement, Russia is calling on Washington to work more actively both with government officials and the opposition.
­At a meeting with US Ambassador Michael McFaul on Friday, Deputy Foreign Minister Mikhail Bogdanov stressed that Russia continues to work "with Damascus and various groups of the Syrian opposition" in an effort to end the 16-month crisis.
The Russian side expressed the hope that the US "will act in the same fashion," the Foreign Ministry said.
The meeting between Russia's Deputy Minister and Ambassador McFaul comes as the UN monitoring mission in Syria is scheduled to expire at the end of next week. Russian diplomats want to see the UN mission extended, together with an immediate ceasefire between the conflicting parties.
Following their meeting, the Russian and American sides released a joint statement, which read: "The parties confirmed the shared desire to comply with Annan's plan approved by the UNSC and the provisions of the Final Communique of the ministerial meeting of the Action Group in Geneva."
"Bogdanov stressed the need for strict compliance by all parties…to the obligations attributed to the [United Nations] documents, with the goal of achieving a peaceful resolution in the Syrian crisis," the Foreign Ministry said.
Meanwhile, Kofi Annan, UN-Arab League envoy to Syria, is scheduled to hold talks with Russian leaders in Moscow on Monday, his spokesman Ahmad Fawzi announced on Friday.
In keeping with Moscow's efforts to engage both sides in the conflict, Foreign Minister Sergey Lavrov met prominent Syrian opposition activist Michel Kilo in Moscow on July 9; the negotiation process continued two days later when Lavrov met with Abdel Basset Sayda, the head of the oppositional Syrian National Council (SNC).
Lavrov put forward Russia's position that the most effective way for the Syrian government and opposition groups to resolve their longstanding conflict is to follow the Annan Plan.
"By having backed the [Annan] peace plan, we confirmed a commitment [by both sides in the conflict] to immediately cease violence and enter into a dialogue," the Russian minister said following his talks with Sayda.
"This will allow the Syrians themselves to decide on their fate," Lavrov stressed.