Resin becomes favorite in Moscow mayor's race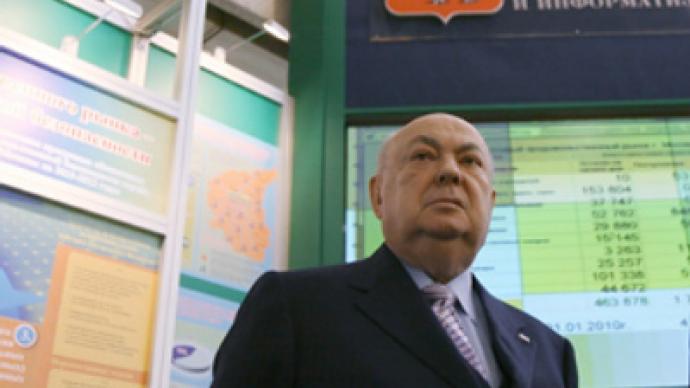 Acting Moscow Mayor Vladimir Resin has joined the ruling United Russia party, which may boost his chances of becoming the city's next head.
In accordance with law, United Russia has been compiling a list of candidates to submit to the president on October 9. Dmitry Medvedev sacked the previous mayor, Yury Luzhkov, on September 28, explaining the move as due to "a loss confidence in him."
Medvedev said in the same decree that the acting mayor was capable of keeping the situation in the city under control during the selection of candidates for the post. Resin had worked as the first deputy mayor prior to Luzhkov's dismissal and was considered his close associate.
Contrary to usual procedures, Resin has become a member of the ruling party within one day. On Wednesday morning, he received a party membership card, said Viktor Seliverstov, the head of the executive committee of the party's Moscow branch. "We are very pleased," Seliverstov was quoted by Interfax as saying. "We have been working with Resin for many years. There has been mutual understanding with him."
On Tuesday, Resin met with Prime Minister and United Russia's leader Vladimir Putin. "They discussed in detail the current aspects of the city's economy and pressing socio-economic issues of the capital city's life," the prime minister's spokesman Dmitry Peskov said, Interfax reported.
Joining United Russia, Resin, 74, has become the favorite among other candidates for the mayor's post, believes political scientist Igor Bunin. He is certain that during the meeting, "Putin and Resin agreed on a common line," Ekho Moskvy radio said.
After his dismissal, Luzhkov left United Russia, the party of which he was a founder, calling it "a servant that often receives wrong instructions." The media are speculating that he may try to form his own party or movement.
But Resin may strengthen the position of the ruling party in Moscow, State Duma Deputy Sergey Markov said. At the same time, he wants to see a new man as the mayor of the capital. "The issue is not only about a new figure, but a new system of management in Moscow," Markov told Ekho Moskvy. "It should be administered in a more European way, more transparently."
As acting mayor, Resin has made several steps that contradict Luzhkov's policies. He has sacked some officials, including the head of the Moscow's Northern district Oleg Mitvol, stopped the construction of a museum depository near the Kremlin and suggested considering the removal of Peter the Great monument from the city's center. The gigantic statue was erected by sculptor Zurab Tsereteli, a friend of Luzhkov's.
Resin occupied leading positions in Moscow's construction industry from 1974 and was deputy mayor during Luzhkov's 18-year tenure. The media are questioning why he did not join the ruling party earlier.
Sergey Borisov, RT
You can share this story on social media: