"Real Communists" emerge in Moldova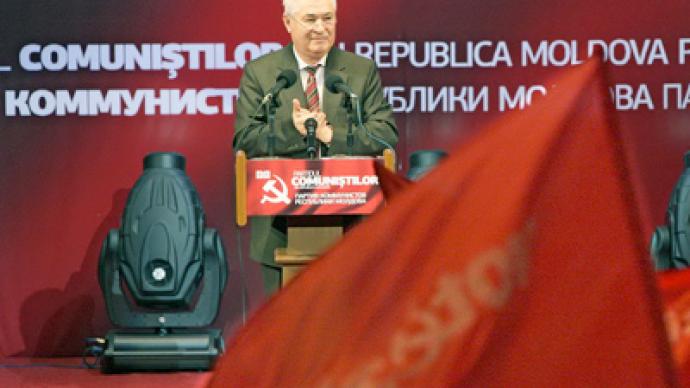 An initiative group is trying to revive the Communist Party which has been banned in Moldova since 1991.
The procedure of registering the Communist Party of Moldova (CPM) has already been launched. It may take three to four months, Igor Kucher, an executive secretary of the party's central committee, announced.If successful, the project may come to rival the Party of Communists of the Republic of Moldova (PCRM).  The "Real Communists" have accused the PCRM of becoming a "bourgeois structure." At the same time, the leadership of the Party of Communists say  right-wing politicians are behind the CPM project in an attempt to split the left-wing electorate.The PCRM significantly changed over the years it ruled the country, Kucher told Kommersant-Moldova newspaper. "Their 8-year rule made the poor poorer and the rich richer," he noted.  Vladimir Voronin, the head of the PCRM, was the country's president from 2001 until 2009. After the dissolution of the Eastern bloc, he became the first Communist Party leader in Europe to be democratically elected as a head of state. But according to members of the "Real Communists", as a result of Voronin and his supporters privatization policies, "more than one million citizens" are now guest workers in other countries. "The PCRM has become a pseudo-Communist and liberal-bourgeois party serving the interests of one of the county's richest men, Voronin's son," Kucher told the paper. He said the new party had nothing to divide within the PCRM, and there will be no talks between the two left-wing organizations.Yury Muntyan, the PRCM secretary general, believes Prime Minister Vlad Filat and former President Petr Luchinsky  will stand behind the project to create a new Communist Party. He described the initiative as "miserable" and supposed that it could siphon off as much as a tenth of voters from the Party of Communists.   Demonstrating their support for the PRCM, about 10 thousand Moldovans took to the streets on Sunday with the party's slogans, protesting against the government policies.The ruling Alliance for European Integration (AEI) is currently trying to overcome the lingering political stalemate as no party or coalition in the 101-seat parliament has enough votes toselect a president. The parliament's speaker, Marian Lupu, is currently the interim president. The country has been run without an elected president since September 2009.
You can share this story on social media: