What reset? Romney's road-trip rants reach Russia
Published time: 1 Aug, 2012 12:20
Edited time: 1 Aug, 2012 16:24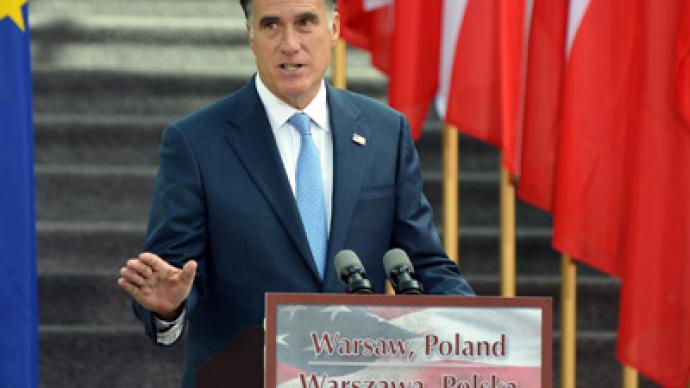 Wrapping up his three-nation gaffe tour, US presidential contender Mitt Romney seems to have stumbled upon a campaign strategy for beating Barack Obama in November: Shock as many sensitivities in the shortest time possible.
The thought processes of Romney, 65, strongly suggest that the Mormon from Michigan has been time-warped back to the Soviet era, behind an Iron Curtain and inside of a 1950s black-and-white television set.
In a speech in Warsaw on Tuesday, Romney kept his shock-and-awe comments in check by reheating leftover memories of deceased goodies and baddies alike. (Stars from yesteryear, including Ronald Reagan, Winston Churchill and Pope John Paul, were mentioned alongside the likes of Nicolai Ceausescu.) After all, a person has to try very hard to insult the dead.
It should come as no surprise that Romney would use this opportunity to rail against Russia while visiting this former Warsaw Pact country, which maintains solid relations with the United States. After all, this is the same Romney who previously called Russia our "Number-one geopolitical foe."
He continued serving up red meat to the campaign crowd as he lumped Russia together with some very questionable characters: "A ruthless dictator in Syria has killed thousands of his own people. In Latin America, Hugo Chavez leads a movement characterized by authoritarianism and repression. Nations in Africa are fighting to resist the threat of violent radical jihadism. And in Russia, once-promising advances toward a free and open society have faltered."
Although much of Romney's comments can be dismissed as election-year hyperbole, it is nevertheless discouraging that American politicians still feel the need to conjure up the spirits of long-dead Soviet-era hostilities in their quest for votes.
Romney took his share of lumps on a recent visit with America's premiere ally, the United Kingdom. There, in the land that gave the world Shakespeare, Wilde and Johnson, among others, Romney felt cocksure enough to wipe his shoes on London's Olympic welcome mat before hurling verbal vases about the place.
In what should have been a no-brainer diplomatic response, Romney took London to task when asked what he thought of the city's preparations for the 2012 Summer Olympics.
"The stories about the private security firm not having enough people, the supposed strike of the immigration and customs officials – that obviously is not something which is encouraging," he replied, an answer that automatically disqualified him from carrying the Olympic torch through the streets of London.
UK Prime Minister David Cameron took the gold for quick retorts when he belittled Romney's role as CEO of the 2002 Salt Lake City Olympics.
"We are holding an Olympic Games in one of the busiest, most active, bustling cities anywhere in the world," Cameron said. "Of course, it's easier if you hold an Olympic Games in the middle of nowhere."
Romney's time-machine-tour previously took him to Israel, where he managed to enflame Israeli-Palestinian tensions by delivering an economics lecture that smacked of racism.
While passing around the fundraising hat at the King David hotel in Jerusalem, Romney compared the economic fortunes of the Israelis and the Palestinians: "As you come here and you see the GDP per capita, for instance, in Israel which is about $21,000, and compare that with the GDP per capita just across the areas managed by the Palestinian Authority, which is more like $10,000 per capita, you notice such a dramatically stark difference in economic vitality."
Saeb Erekat, a senior aide to Palestinian President Mahmoud Abbas, said Romney failed to take into account the Israeli occupation of Palestinian territory as a reason for the economic mismatch.
"It is a racist statement and this man doesn't realize that the Palestinian economy cannot reach its potential because there is an Israeli occupation," Erekat said.
If Romney does manage to pull off an upset against Obama in November, which seems unlikely at the moment, such an event will signal much more than the end of the so-called reset between Moscow and Washington. It could spell the start of a new arms race, and Romney will only have himself to blame.