Upper house ex-speaker wants to return "against all" line to ballots
Published time: 3 Jun, 2011 14:25
Edited time: 3 Jun, 2011 19:08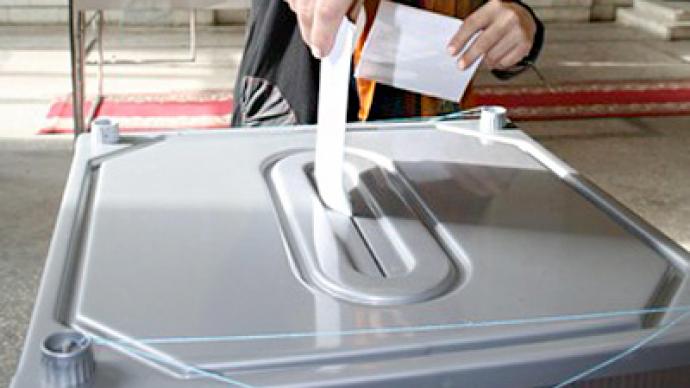 Voters should have the right to choose "against all candidates" item during elections, the former speaker of the Federation Council, Sergey Mironov, has said.
­"Now it is necessary to return the 'against all' line to ballots," Mironov told President Dmitry Medvedev during their meeting on Friday. "People with an active civic stand want to have the opportunity to express their point of view, but we deprive them of this chance," Mironov noted.

Many people refuse to go to elections because they lack this item on ballots, Mironov believes. He described the "against all" line as a barometer of political sentiments in the country.

The ex-speaker, who heads the Fair Russia party, said it had prepared three sets of proposals regarding election laws. In particular, they concern forming electoral commissions. Mironov believes all the parties should have their representatives in such bodies.

He will head the list of Fair Russia candidates during the parliamentary elections due in December. Mironov's party has criticized the ruling United Russia's party for creating administrative obstacles for rivals during the latest regional elections.

Mironov himself was recalled from the upper house by deputies of St. Petersburg Legislative Assembly in May on United Russia's initiative and lost the speaker's post. But after State Duma Deputy Elena Vtorygina handed over her mandate to him, he may head Fair Russia's faction in the lower house. But first, the Central Elections Commission should consider the documents regarding the transfer of the Duma seat.

During the meeting on Friday, Medvedev wished the former speaker success in his political activity. He joked that Mironov would have "a merry life" as a member of the lower house, compared to "the calm work" in the Federation Council.

The president also thanked Mironov for almost ten years of presiding as speaker. "Regardless of how one could assess the modern legal system, during these years we have managed to create outlines of political system and law enforcement in our country," Medvedev said.

Speaking about the electoral legislation, Medvedev noted that it should be "effective and transparent" and should not give rise to complaints. He also said that amendments to electoral laws, which have been prepared by Fair Russia, would be discussed.

Meanwhile, members of that party in the State Duma expect Mironov to become the head of their faction on June 8. Then the current head of the faction, the party's chairman Nikolay Levichev may become Mironov's deputy, a source in the Duma told Itar-Tass. Earlier, Mironov handed over the chairman's position in the party to Levichev, but remained Fair Russia's informal leader. The current deputy speaker of the lower house from that party, Aleksandr Babakov, is likely to retain his position.