'Minister's job no popularity contest' – Medvedev
Published time: 17 Apr, 2013 13:54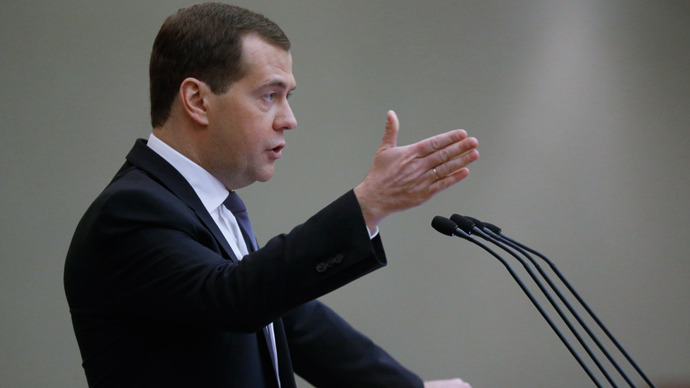 In a keynote speech before the parliament, Prime Minister Medvedev has admitted problems with Russian education, but refused agree to opposition demands and sack Minister Livanov.
Dmitry Medvedev was delivering the report on government performance in 2012 to the State Duma and had to answer MPs' questions afterwards. Igor Lebedev of the opposition party LDPR asked if the PM had thought about firing Education Minister Dmitry Livanov and backed the questions with sharp criticism of the official's performance.
However, Medvedev defended his subordinate, saying that the criticism was an inseparable part of the government work.
"A minister is not a ruble coin for everyone to like him. A lot of positions in the government can be called an execution list and the education and health ministers are examples of such posts," he responded.
Medvedev asked the MPs if they could recall a single occasion when someone in the parliament had said something good about these officials.
"I think that the minister who is liked by everyone simply is not fully performing his professional duties," he added. However, he said that the government officials must remain in contact with the community and praised the criticism, as it was not just the right, but a duty for the State Duma deputies.
Medvedev also admitted that the current state of Russian education, especially postgraduate education, could be improved.
"There are institutes that will make you feel shame if you walk inside. It is sad to see who lectures there," the PM noted. He also called for a critical review of the system that has been driven solely by inertia over recent years.
Medvedev also warned about the dangers of fully relying on digital systems that were created to fight plagiarism, saying that scientists and scholars could use quotes once it is done properly.
Lately, Livanov has been often targeted by colleagues and politicians both for his work and his public statements. His conflict with the Russian Academy of Sciences spilled far beyond the educational sphere after the minister called the academy 'archaic' and 'non-viable' in a radio interview and likened it to a property-managing institution that was not making any input into the fundamental sciences.
Academicians replied with an open letter demanding a public apology and threatening to ask for Livanov's dismissal from the minister's post if they did not get one.
Livanov apologized, but the demands for his dismissal still followed.