Ukraine in NATO would ruin European security – Medvedev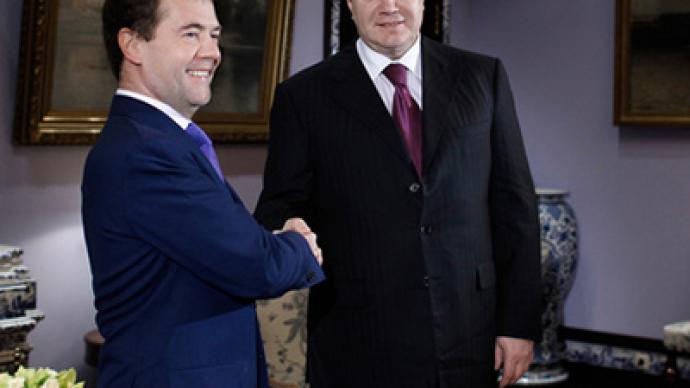 President Dmitry Medvedev has praised Ukraine's "perfectly justified" decision to remain a non-bloc state as it is a question of security in Europe as well as a "sensitive" issue for Moscow.
"We have always maintained a simple stance on Ukraine's membership in NATO: it would destroy the security space in Europe which is a sensitive issue for us," the Russian leader said speaking at a joint media conference with his Ukrainian counterpart.Viktor Yanukovich arrived in Moscow on Friday for talks with Medvedev and to take part in a session of the Russia-Ukraine intergovernmental commission. The meeting between the presidents of the two neighboring states is the tenth since the beginning of 2010. And "the year is not over yet", Yanukovich noted, hinting at the possibility of yet another round of talks with Medvedev. The two had a lot to discuss, as after several years of tension between Moscow and Kiev, neighborly relations are back on track and seem to be strengthening. In areas where the sides have not yet come to an agreement, they are ready to seek compromises. Energy and trade were traditionally topping the agenda.President Medvedev assured that when building cooperation with Ukraine in the energy sector, Moscow and Kiev's now good relations will be kept in mind. First of all, Medvedev noted, "We have advanced relations with Ukraine and we have very good relations with its president". Secondly, "Ukraine is a very important economic partner," he added. The Russian president underlined that Moscow is aware that "energy security of the all Europe" depends on relations between Ukraine and Russia. At the same time, Russia realizes that economic stability in Ukraine depends on conditions set in the relations between the two in the energy sector. "Therefore we are ready to discuss both strategic and tactical issues of this cooperation in an absolutely friendly way," Medvedev stated. "We should find such forms [of cooperation], such compromises, which would suit both states and would allow us to develop our relations in a stable and balanced way". With the coldest days of winter looming, many in Europe recall previous years when gas rows between Moscow and Kiev were kind of a New Year tradition, with the risk of millions of people being left without heating. The unwelcome tradition seems to be no more. European customers can apparently count on uninterrupted, regular gas supplies which transit through Ukraine from Russia, as President Yanukovich assures that Kiev is a reliable and predictable partner."In the current circumstances we are certainly continuing the gas talks," he noted speaking at the intergovernmental commission's meeting. But, Ukraine "is a reliable partner that will not create problems for partners in Europe," Yanukovich added, cites Interfax. Yet another step that could provide for the development of economic and trade cooperation between the two former Soviet republics is Ukraine joining the Customs Union between Russia, Kazakhstan and Belarus. "We would like to see Ukraine within the Customs Union…We believe that makes big economic sense," Medvedev told the media conference. At the same time, the Russian leader noted that it is "up to a sovereign state" to decide which unions to join. Yanukovich, for his part, said that Kiev's membership in the Customs Union "is possible", though it would require introducing amendment's to the Ukrainian Constitution.
Natalia Makarova, RT
You can share this story on social media: