Tea at Medvedev's: villagers share their problems with president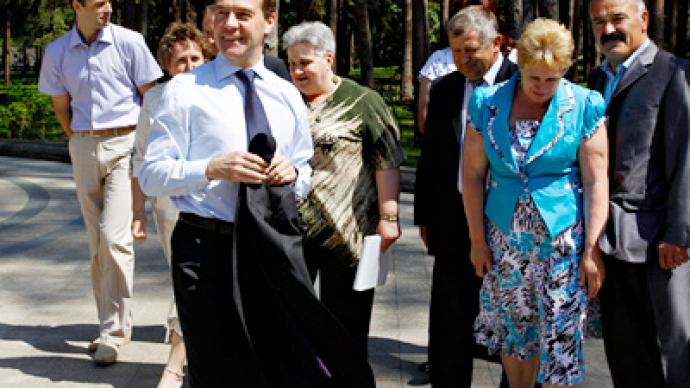 Dmitry Medvedev has met over a cup of tea with the residents from Nenashevo village in the Tula Region, who had sent the president a letter telling him about day-to-day problems that Russian farming sector workers are facing.
After receiving the message that was sent to the presidential website, Medvedev decided to meet the authors personally and invited the villagers to his Gorky residence outside Moscow. During the meeting, which lasted for over an hour, the president and 11 Nenashevo residents – including a vet, agronomist, librarian, engineer and others – spoke about difficulties they have to cope with. And these are typical problems for millions of Russian rural residents: a lack of subsidies, low salaries – and therefore inability to pay mortgages – high energy tariffs and prices for fertilizers, red tape, outdated equipment, officials often turning a deaf ear to complaints, and even weather conditions.Talking to Medvedev, the villagers said that it is too pricey for small farms to buy modern machinery, while it is impossible to compete with foreign producers without it."We will have nothing to do in the WTO [World Trade Organizations] with just spades and pitchforks," noted Sergey Vorona, the director of the farm. Medvedev agreed and noted "That is a good metaphor; I'll keep it in mind." The president vowed that the state would keep supporting agricultural producers. He agreed that the housing problem is the key one for rural citizens. However, mortgage systems that work in the city are not acceptable for villagers, since they simply cannot afford it. Co-financing could become a solution to the problem, the president said. Expenses could be shared between regional budgets, the farm and a person. This could also help to solve yet another problem – urbanization – and make village life more attractive for young specialists.The president was rather dissatisfied to learn that farmers can only get 0.376 acres of land on which to build houses. "Sometimes it irritates me and even makes me angry. We have a lot of land," Medvedev stressed. He observed that in the Soviet times, limitations were set for ideological reasons, but now the approach should be different and those who want to have more land should be allowed to have it. Medvedev also called on regional officials to pay more attention to working with people. It often happens, he noted, that the distance between heads of municipalities and their people is longer than the distance between that municipality and Moscow. "It is time to get rid of such conceit," he underlined, cited Itar-Tass.The president said that he was aware of many of the problems that were raised during the Friday meeting, however, "some things came as a surprise, and not a pleasant one." Those problems require the state and the president to make conclusions, he stressed, adding that he had taken notes.During the meeting Medvedev pointed out that in Russia "the city cannot live without the farm." Historically, farming has become a lifestyle for millions of people rather than simply a mode of production.He expressed confidence that despite all the problems, farming in Russia "is capable of bringing profit but not just surviving." Medvedev said that he is sure that Russian rural sector has a future. The participants of the meeting thanked the president for his quick response for their letter. It was sent on Friday last week, and on Monday they were told that the president was ready to meet with them. In their message, the villagers said that they totally agree with the president's stance that modernization should not be slow and gradual. "But we would like to discuss how to conduct it without any harm and stress," they said.
You can share this story on social media: