Russian agriculture from the global perspective
Published time: 31 Mar, 2011 08:11
Edited time: 31 Mar, 2011 14:46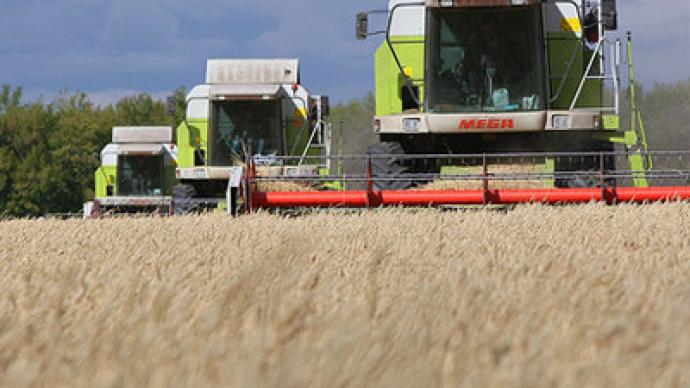 With the government looking to boost Russian agriculture Business RT spoke with Aleksey Pavlov, Unilever group procurement operations director for Russia, Ukraine and Belarus, about how competitive Russian agriculture is, and what is changing.
RT:How important is Russian agriculture for a large multinational such as Unilever and how competitive and efficient is it?
AP:"The Unilever group of companies regards the Russian agricultural market as a key, fast-growing and strategically vital market. A wide variety of raw materials are produced by Russian agricultural industry, some of them play important role not just in Russian market, but also in global economy. One of the examples is sunflower oil – Russia is one of the world's two biggest producers of sunflower seed oil, playing an important role in global supply.
Working with domestic producers calls for a specific approach. Russian agriculture has lags behind developed countries in productivity, and include high capital intensity and a long period of under investment following the collapse of the USSR which practically destroyed the production base of Russian agriculture. This is where experience of multinational companies like Unilever plays a major role in supply development programs."
RT:What are the major issues impeding development of Russian agriculture and food production?
AP:"There are a lot of things which restrict Russian agricultural development. For example, local production lags the rest of the world in utilizing the latest practices and technology. That, in turn, lowers the competitiveness of Russian agricultural producers. Domestic agriculture also has a great need of floating capital, which has a long turnover period because of seasonal harvests. Besides in climactic terms big part of Russia is in a region of marginal conditions which means that conditions can vary greatly from year to year and have a very significant impact on production.
Amount of qualified professionals in agriculture is not as good as it should be. There is significant migration from rural areas to urban ones and staying in rural areas is not attractive for young people. Even after graduation from higher education institutions in professions like agronomist, young people rarely return to work in villages.
At the same time, the high degree of state interference in agricultural production shouldn't be considered as one way good or bad factor. It has effects both ways.
Under current materials supply market economic conditions it's clear that considerable time will be required to develop Russian agriculture. Industry will need to attract high levels of investments from state and foreign investors."
Aleksey Pavlov, Unilever group procurement operations director for Russia, Ukraine and Belarus
RT:What sectors of Russian food production are particularly short of foreign investments?
AP:"Foreign investments are not currently widespread in Russian agriculture. The few exceptions include the production of vegetable oils, grain and sugar. There's an urgent need to spread investment in different areas of Russian agriculture. For example, potatoes and tomatoes are cultivated in huge amounts as feedstock, but are sold unprocessed in the very first stage because there are vegetable processing and storage capacities shortage. On the other hand, dairy production has enough processing capacity but faces a shortage of feedstock milk supply because most livestock is raised and used for meat production."
RT:What benefits do foreign investments bring to Russian agriculture?
AP:"The theme of investment levels in Russian agricultural development is attracting more and more attention. Acting as a socially responsible business, the Unilever group of companies traditionally provides diverse support to agricultural producers in various regions of company operations and Russia is no exception. It's important to note that Unilever invests not only in the construction of production centers, equipment and new technologies but also supports the development of the local community. A vital element of this program is support for local manufacturers of raw agricultural products.
The company has launched a new investment project in the Tula region. It's almost completed the construction of a multi-purpose Inmarko ice cream production complex – the first stage of construction was finished in March 2010: and a logistics center, refrigerator storage and a dispatch area began operation then.This is one of the most significant Unilever projects in Central and Eastern Europe representing a nearly 100 million euro investment before the end of 2014, which will employ about 1,000 people. Unilever has invested about one billion euros in the Russian economy, up until now.
It should be noted also that most raw materials – such as egg yolk, butter, raw milk, dried milk, dried cream, milk whey, yoghurt powder, dried cheese powder and so on – for Unilever's food production plants in Russia are supplied by Russia's agricultural industry.
In many respects this reflects the company's commitment to provide the Russian market with food products that are fully in line with local consumer taste preferences. Unilever constantly works on the plans to set up large-scale exports of finished products from Russia to other former republics of the USSR and elsewhere, including the European Union.To cut production costs and simplify logistic operations, the Tula plant mostly plans to purchase its primary goods and packaging materials in Central and Southern Russia.
In its global operations, Unilever follows identical business principles that are valid both for its office staff and to its suppliers. In Russia, therefore, we are out to have suppliers demonstrate the same quality efficiency as we practice at the global level. Our interaction with local businesses helps farm producers to meet Unilever's high international quality standards. This leads to a situation where they become more competitive and may possibly come to global markets on their own. Providing exposure to international standards and markets is a significant benefit for local producers."
RT:How committed is a large multinational, such as Unilever to effective land management and environmental practices?
AP:"Important aspect of support Unilever provides to Russian agriculture and food industry are the company's environmental commitments. This is something that directly concerns suppliers, for Unilever abides by a concept of ecologically sustainable agriculture and from that point of view it places higher requirements on primary producer. Globally the company is guided by the ecological concept in that it purchases from suppliers only the certified primary matters like tealeaf, palm oil, paper, and other wrappings. In Russia, the same can be applied to purchases of local farm staples like tomatoes, eggs, milk, and so on.
Unilever has for years operated under a policy of environmental sustainability. For that it buys from suppliers only the ecological, certified primary matters like tealeaf, palm oil, paper, and other packaging materials. It works to increase the scale of business while reducing the environmental impact.Unilever is active in promoting the sustainable development principles that are everywhere introduced in both everyday life of its own employees and in its partners' practices."
­James Blake, Anastasia Kostomarova, RT