Medvedev and Pontiff discuss ties between religious confessions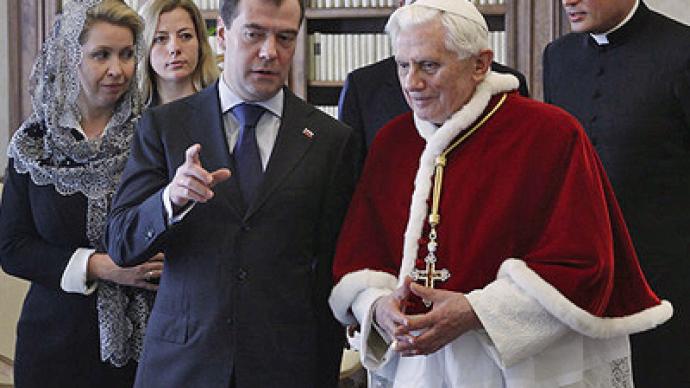 President Dmitry Medvedev has paid an official visit to the Vatican, where he met with Pope Benedict XVI and Cardinal Secretary of State, Tarcisio Bertone.
The pontiff pointed out the importance of the Russian president's visit to the Holy See. It was mainly philosophical matters that they discussed but they also talked about some practical issues like cooperation in international organizations, interaction between scientific and educational institutions, and working with young people. Pope Benedict XVI and President Medvedev also exchanged gifts. The Russian leader offered the pontiff the last volume of the Orthodox Encyclopedia. The first volumes were presented to the pope by Vladimir Putin when he was president. Later, in 2009, Medvedev presented more books from the series to Benedict XVI. This time the president said that the publishing of the encyclopedia was still continuing, so this might not be the last item to find a place in the Vatican library. There were other presents as well – a book of correspondence by Russia's first president, Boris Yeltsin with heads of states and an enamel tile with a depiction of the Moscow Kremlin. The pope offered Dmitry Medvedev a stone panel with an engraving of the St. Peter Basilica. The Russian president was accompanied by his wife Svetlana Medvedeva. She was introduced to the pope after they finished the conversation. It was the first visit of a Russian head of state to the Holy See since 2009, when Medvedev met with the Pope and signed a decree to establish full-scale diplomatic relations with the Vatican. Back then it was also decided to transform the Russian mission to the city-state into an embassy.Ties between Moscow and the Vatican improved significantly after Russian Patriarch Kirill took office in February 2009 after the death of his predecessor Alexy II. For years, the two churches could not come to a compromise as the Orthodox Church officials were suspicious of the Catholic activities in Russia and accusing them of proselytizing- which Vatican denied.
You can share this story on social media: