Interconfessional dialogue pledge of ethnic peace – Medvedev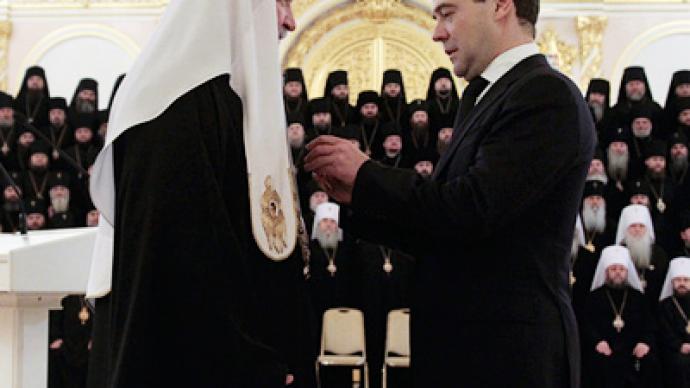 Dialogue between confessions is an important tool for prevention of interethnic conflicts, and the Church plays a significant role in this, President Dmitry Medvedev said during the Archpriest Assembly at the Kremlin.
"The Church has always been involved in the interconfessional dialogue and moreover, initiated it," Medvedev stressed at the meeting of Russia's top Orthodox Church leaders, including Patriarch Kirill.He pointed out the efficient work of Russia's Inter-religious Council in this field, adding that their experience is "extremely needed today". Interethnic conflicts have become a serious problem in Russia in recent years, with nationalist movements gaining in popularity among the young. In the latest development, a mass rally turned violent on Moscow's Manege Square on December 11, instigated by nationalist slogans against the natives of the North Caucasus. Among other reasons, many blame an educational gap among some young Russians who know little or nothing about the history of the country and the world. It is often the case that they support "Russia for Russians" and fascist slogans having no idea about what fascism is like. The president is also convinced that introducing the basics of religion and lay ethics in schools will also contribute to tolerance and mutual respect in society. In Russia, with its cultural and religious diversity, this is especially important he believes. "Perhaps for the first time in our history, the authorities do not interfere in the activities of religious organizations," Medvedev noted. At the same time they – the country's leadership and the Church – "are solving the most pressing and important issues together." The president also talked about Russia's national diasporas abroad, acknowledging that the state has not been efficient in dealing with them. He said he relies on the assistance of the Russian Orthodox Church in building closer ties with Russians across the world."The Church contributes a lot to the consolidation of the multi-million Russian world of our compatriots living abroad, first of all in the CIS," Medvedev said. Wrapping up the meeting, Dmitry Medvedev awarded Patriarch Kirill with a newly established order of Aleksander Nevsky, a medieval prince respected both for his historic role at the dawn of the Russian state and venerated by Orthodox Christians as a saint.
You can share this story on social media: