Russia lacks top-rate scientists – Medvedev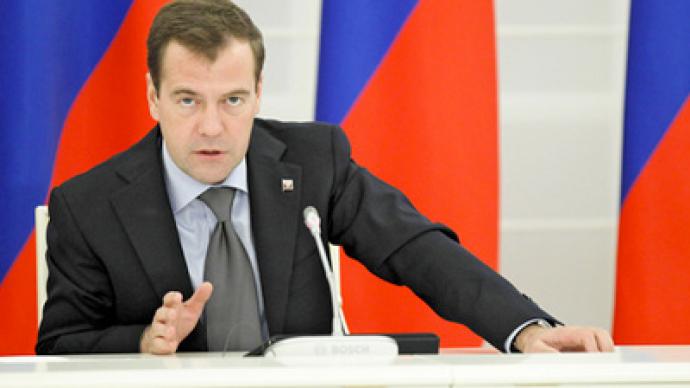 President Dmitry Medvedev has voiced concern over the situation with higher education in Russia, which churns out two million university graduates a year, but very few of them are truly professional.
The issue was raised during Medvedev's meeting with Russian and foreign scientists – the winners of the so-called "mega-grant" contest – at his Gorky residence on Monday. The aim of the gathering was to discuss problems that academics face in Russia and possible ways to tackle them.
The lack of highly-professional personnel, for instance, is one of the stumbling blocks in the development of science and, thus, in modernizing Russia's economy. As was pointed out at the meeting, despite a large number of university graduates, it is still difficult to find 20 young professionals who would be skilled enough to work in laboratories in Skolkovo – the Russian tech hub located outside Moscow.
Medvedev said within next following years universities that provide a low level of education will be closed. He recalled that back in the '80s, only 30 per cent of school graduates joined universities, whilst today almost all young people get a higher education.
"The problem is that far not all of the universities are of a high quality, and, frankly, some of them should be closed," the president said, adding that he hopes that the situation will soon be resolved.
Medvedev also noted that it is pretty "scary" when you see a lawyer who got a degree at a technical university.
"It is scary to put yourself in the hands of a doctor who, for instance, studied law. The same thing with an advocate who got his education at a technical college, even if it was an excellent one," he noted.
Such a mixture of "genres", which has been widely practiced by Russian institutes in recent years, has only worsened the situation with professionals in the country.
The participants of the meeting handed over their petition to Medvedev, in which they asked the head of state to address a number of burning issues. Those include complications that scientific institutions face because of far too tough customs rules, state purchase contracts, lack of grants for talented young people and, in particular, barriers set Federal Law No. 94, which regulates research programs won in tenders.
Medvedev vowed to alter the federal law and fitted to scientific needs. He recalled that the law was passed as a way to counter corruption, but, as often happens in Russia, it turned out to be a break on public and scientific progress.
Having listened to academicians complaints, the president noted – with a smile though – that he might reshuffle some staff.
"As I am listening to you I start thinking that I should probably fire Education Minister [Andrey Fursenko] or someone else," he said. According to Medvedev some the government could have already addressed at least some of the problems that were voiced on Monday.
Overall, the meeting took place in quite a friendly atmosphere. The president observed that despite all the difficulties the governmental "mega-grants" program had been launched. The aim of the 12-billion ruble (about half-a-billion dollar) project is to attract leading world scientists to work in Russian universities as well as to create conditions for academic mobility of Russian researchers.
"Modern science has no borders and unprecedented conditions have been created for communications," Medvedev said. Russia is interested in the "regular circulation of ideas" as well as "in highest level of scientific mobility".
Addressing the meeting's participants, Medvedev stressed that he wants them to be provided with all the necessary conditions for work in newly-created laboratories in Russian cities. He expressed hope that Russian and foreign scientists' activities will be maximally productive. And if now things are not perfect and there are issues to be tackled, "we are determined to change that."