Presidential Davos address sets out Russian economic direction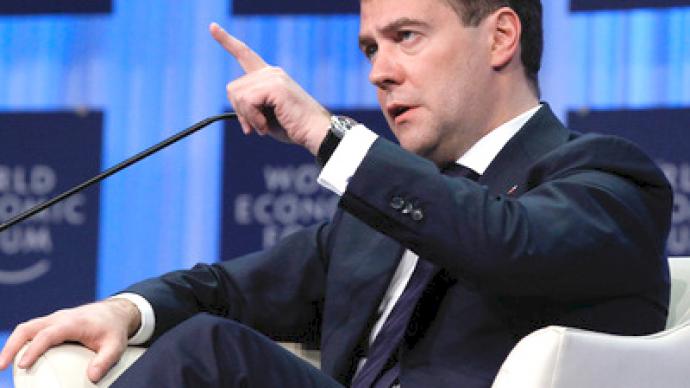 The address by Russian president Dmitry Medvedev at Davos has highlighted ten key areas focused on Russia's economic modernization, including the promotion of a better business climate and greater transparency.
Talking at the World Economic Forum President Medvedev outlined 10 key points of Russia's modernization. According to the President, Russia is already taking steps to make its economy more attractive to investors. He outlined a range of issues that will broaden the country's industrial base, with a major sell off of state assets being a key driver."I have initiated an unprecedented programme of large sales of state-owned companies. Over the next 3 years large stakes in the banking, infrastructure andenergy sectorsand will be privatizated for the overall sum of tens of billions of dollars. It isn't the state budget we care about, but improving the efficiency of companies and the business environment."Among other plans is to set up a "special sovereign fund" to attract foreign capital, the President said. Medvedev said in an interview with Bloomberg Television on Wednesday such a move could further encourage global investment into Russia."It may make sense now to think about creating a special sovereign fund that comprises state property and money to attract an array of private investments from abroad and within the country."Talking about the country's third priority – development of financial sector – Medvedev reminded about the new tax relief for foreign investors, that came into force since January 1, 2011."From January 1 the tax on securities sales was cancelled for cases of long term investment. We don't intend to additionally limit financial activity, but the opposite – to expand the opportunities for financial institutions to the maximum."Also, President Medvedev stressed the need to incorporate into global organizations, such as World Trade Organization and Organization for Economic Cooperation and Development."Russia has long be ready to join WTO. I expect the process to complete this year, all the partners promised me that."In his speechPresident Medvedev also talked about the need to developMoscow School of Management Skolkovo, thathe expectedto become quality new role model of an educational centre."Skolkovo won't solve all the problems, of course; it won't stir the whole country. But we must show how innovation business should be organized – the way it's done all over the world. We have a lot of science cities, all of them are good ones – brilliant scientists, science devotees work there. But the way things are organized is often Soviet-like; it is non-viable in the market economy. It means we should create a new model."Other key directions include boosting energy efficiency, technology exchange, with the latest BP-Rosneft deal and the planned set up of a Russian – French consortium to construct naval vessels being examples, expanded broadband internet access across Russia, education issues and infrastructure projects.
Read Aleksey Pushkov's related column here
You can share this story on social media: