Medvedev foresees Russians using universal e-ID cards in elections
Published time: 28 Feb, 2011 15:15
Edited time: 28 Feb, 2011 20:33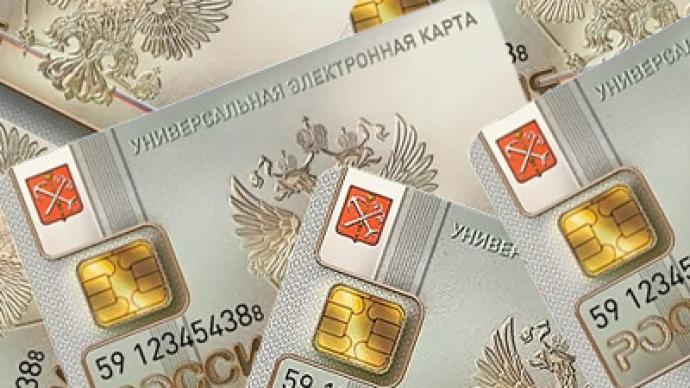 President Dmitry Medvedev has asserted that citizens would be able to vote in elections using universal electronic cards or e-ID cards, but stressed the need to protect personal data.
­Internet users are discussing the possible introduction of universal electronic cards online and are putting forward their proposals, Medvedev said at a meeting of the commission on modernization on Monday. The idea of using universal electronic cards in elections is being floated "so that everyone can find out what happens to their votes," the president said.

He described the proposal as "brilliant" and noted it was possible in the future. "Clearly, it's not a prospect for today or even tomorrow, but it's interesting," Interfax quoted him as saying.

As for today's possibilities, President Medvedev and Moscow Mayor Sergey Sobyanin inspected stands demonstrating possibilities of an e-ID card being developed for local residents in the capital. In particular, it could be used as a season ticket.

At the same time, the president warned that companies should not use such cards to illegally harvest data and enrich themselves. "We have to devise a way to regulate payments with such cards," the president said. He added that citizens' personal data are poorly protected and circulates on the Internet. He admitted that no effective means of protecting such information have been discovered.

Medvedev also noted that inside Russia 'e-ID cards' would usher in a new level of citizens' interaction with the state and various bureaucratic structures. It will provide new opportunities and convenience in paying taxes, for purchases, it would also help individuals obtain regular information on their accounts.

Russia's universal electronic cards in the long run should be acceptable in other countries, Medvedev said. They mean our integration into the 'cyber' world, he noted. For Russia, it means "a better digital culture."

Twitter joins the fight against corruption

President Medvedev also demonstrated the opportunities of Twitter, a service he uses frequently. A user complained during the meeting that someone was demanding $300,000 from him for a meeting with the First Deputy Head of the Presidential Administration, Vladislav Surkov.

The man was reportedly planning to discuss the development of North Caucasus region with the official. Medvedev suggested that the user phoned Surkov's office to arrange a meeting. Several minutes later Presidential Aide, Arkady Dvorkovich told that individual the telephone number in the office.

Fair play for Olympic mascots

Medvedev voiced his criticism of the selection process for the 2014 Sochi Winter Olympics' mascot. He believed that the voting organized on television could have been fairer. TV viewers could have chosen the mascots over the weekend using their mobile phones. In the end, the winners turned out to be the Leopard, Polar Bear and Hare.   

Voting results on the internet differed from those on TV, Medvedev noted. The discussion about the use of the universal e-ID card would be fairer than the selection of the mascots, the president said.