Medvedev orders police to use "all legal means" to counter rioters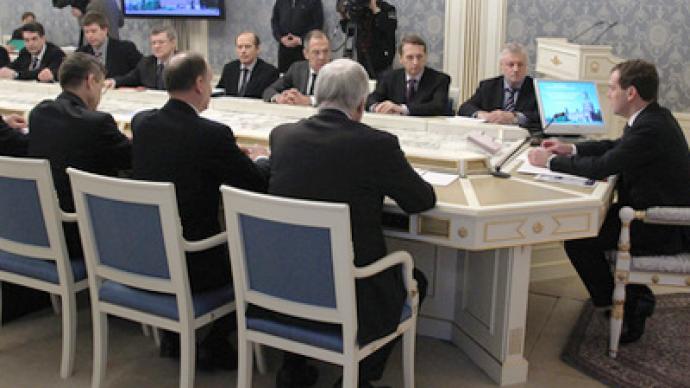 President Dmitry Medvedev on Monday ordered Prosecutor Yury Chaika, and head of the Investigative Committee Aleksandr Bastrykin to punish those responsible for Saturday's riots in central Moscow.
All public events should be held in strict compliance with the law, Medvedev said, speaking at a meeting of the country's Security Council on Monday. Any manifestations of criminal activity should be stopped by law enforcement agencies, the president stressed. Riots must be treated as crimes and those who committed them must be punished, he stressed.
Medvedev urged law enforcement agencies to use "any legal means" to stop the incitement of inter-ethnic and inter-religious strife.  
About 5,000 young people – football fans and activists of nationalistic organizations – gathered at Manezh Square near the Kremlin to commemorate the death of Spartak football fan Egor Sviridov. He was killed in a brawl on December 6, allegedly with men born in Russia's North Caucasus.
Some of the protesters at Saturday's rally staged riots and clashed with police. During the riots in Manege Square, 32 people were injured. Police detained and then released 66 people.
Police will improve their work to more effectively deal with riots, Russian First Deputy Interior Minister Mikhail Sukhodolsky said on Monday.
The Interior Ministry's bodies, including the special task force, "are not influenced by politics or any external factor" in doing their main job, Sukhodolsky stressed. The response to rioters will be tough, but "commensurate to the degree and level" of threats, he said.