Putin says neither he nor Medvedev have ruled out running for presidency in 2012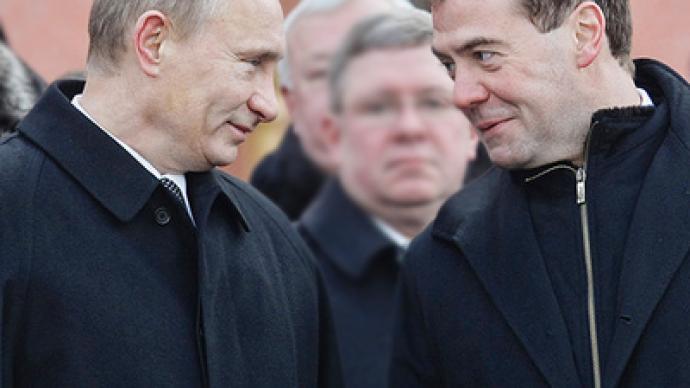 Russian Prime Minister Vladimir Putin says he may take part in the presidential election next year, and that Dmitry Medvedev has also not ruled out running for the top job.
"Both President Medvedev and I do not rule out that each of us may run for the presidency," Putin told journalists on Wednesday, cites Itar-Tass. The comment referred to Medvedev's statement made in an interview with Chinese television where the incumbent president said that it is his "duty" to think about running for a second term. "As for the future, well, nobody can tell the future, but I can tell you that as the current head of state, as president, I am thinking about it, it is my duty," Medvedev said. "I do not rule out the possibility of my running for a second term in the presidential elections. The decision will be taken very shortly since …the elections are less than a year away."Putin noted that the question asked by the Chinese journalist was not original as both he and Medvedev have had to answer it "a hundred times within the last several years". The prime minister observed that it is almost a year before the presidential vote "and all the fuss around the election" does not help normal work. According to the head of the government, "if we give any wrong signals now, half of the administration and more than a half of the government will stop working but wait for changes instead"."And everyone in their particular place must hoe their land plots daily like St. Francis did," Putin stressed.
You can share this story on social media: