Medvedev pushes for global nuclear safety agreements
Published time: 7 Jul, 2011 10:31
Edited time: 7 Jul, 2011 16:11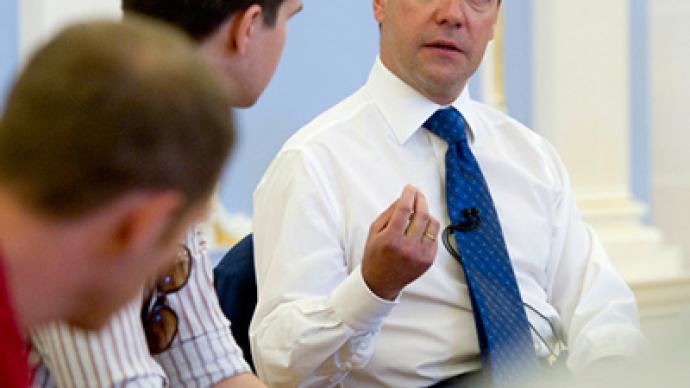 President Dmitry Medvedev has called on the international community to adopt Russia's proposals for updating the standards for nuclear security and safety.
­"[The use of] nuclear energy should continue, but it should live by new rules. I would like for our proposals to be considered by the world community and adopted by the IAEA," Medvedev said during a meeting with activists from the youth forum Seliger-2011. "In this case, we will have a safer defense system to deal with such problems."
He made the statement in response to a question by a representative from Japan who asked if Russia has drawn any conclusions from the Fukushima accident and its consequences. 
President Medvedev put forward an initiative in April while giving a speech on the 25th anniversary of the Chernobyl nuclear disaster. It was sent out to the leaders of several world powers. The proposal, which contained specific measures aimed at the development of nuclear energy, was first and foremost concerned with making it safe and secure. Technically, Moscow suggests that new construction and operation standards should be drafted and implemented on a global scale. This topic was also touched upon during the G8 summit in Deauville this past May. 
Although overall standards have been raised following the Fukushima nuclear accident, it is necessary that all countries in the world agree on some general principles for nuclear energy development since nowadays, "humanity has no possibility to abandon it". 
Activists at the forum also raised concerns over the war against child pornography. One of them asked the president to help in the creation of a monitoring center, adding that "all of the resources exist for it, only a top-level decision is needed." 
"It's a reasonable idea," Medvedev agreed. "In recent years, there has been a surge in such activities, which is linked to the development of technology and the internet." At the same time, he reminded them that Russia had taken a series of measures to fight the spread of child pornography.  And by measures, he meant "a number of legislative changes." 
He added that several proposals are now being considered by the parliament, namely the chemical castration of pedophiles.
"There are differing opinions," he said. "Not all countries support such measures, but in general, this is better than doing nothing." In addition, Dmitry Medvedev stressed that "those who set-up such websites should be prosecuted."