It's official: Russia gets Public TV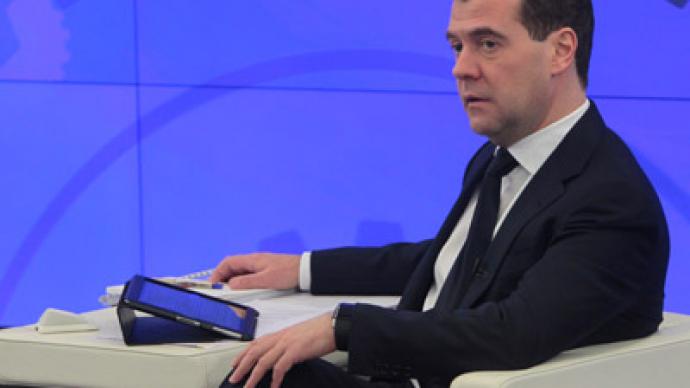 President Dmitry Medvedev has signed a decree on the creation of Public Television channel in Russia which is set to go on-air on January 1, 2013.
Medvedev pointed out that the decree provides for a whole range of measures aimed at making this new television public, rather than state or any other kind. "Of course, the state has influence on everything, but such influence must not be exorbitant," the president observed. The head of state made the announcement at the beginning of his Tuesday meeting with members of the Big (or Open) Government. At the first stage of its establishment, the state will provide financial support to the public television channel. Later it is planned to replace state crediting with "endowment," Medvedev said.The president stressed that the main body to administer the new station – a Council on Public TV – will be comprised of representatives of different political forces. Medvedev underlined that the document he signed bans any state officials or parliamentarians from joining the council.Medvedev confessed that he has no idea who would head the new institution, adding that it is up to the community to select the candidate. "There's a mechanism based on the opinions of experts – the Public Chamber," he said. As is the case in other countries, the final decision on the matter is made by the president, Medvedev explained.Under the decree, the executive body of the public TV station, and its editor-in-chief at the same time, is its director general, who will appointed to the post by the president for a term of four years. The head of state also has right to dismiss the director. The new channel will be available throughout Russia for free and will be included into a first "multiplex" of channels that will broadcast in digital format.Communist MP, Sergey Obukhov says his party comrades suspect that the initiative will turn out hollow."We have already been through this, when the authorities created the Public Chamber 'from above' and most of the chamber's members are now very manageable, so-called 'pet oppositioners'," Obukhov told Interfax. He added that the Public TV was an imitation project with only one objective – to show everyone that the authorities were taking steps to introduce more democracy in the country. First Soviet President Mikhail Gorbachev has also expressed doubts that Public TV would satisfy the community's demand for free and democratic television. "Through these talks they still want to conceal their lack of desire to make real television for the people. Why make it public? Why not give a state-owned channel for this project," he said.
You can share this story on social media: