Medvedev urges United Russia to report to voters
Published time: 2 Jul, 2012 11:51
Edited time: 2 Jul, 2012 15:51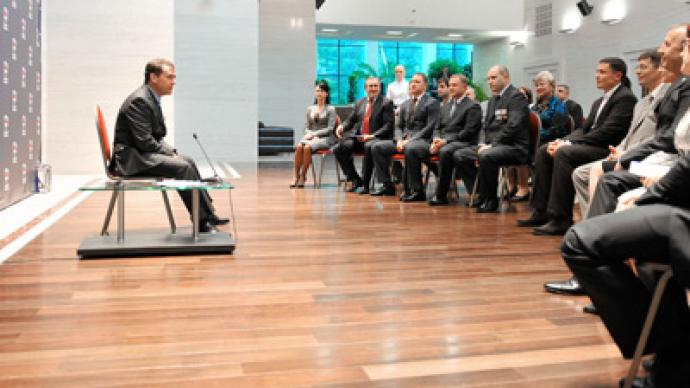 United Russia must regularly report to citizens on its achievements as well as admit the party's failures, says its leader, Prime Minister Dmitry Medvedev.
"Reports by party leaders of all levels must become a norm," Medvedev said at a meeting with United Russia activists in Vladivostok on Monday.
According to the Prime Minister, it is necessary for the party to remain the leading political force in Russia.
"The party must communicate with people and, by the way, not be afraid of having to admit its errors and setbacks sometimes. It's normal. People will forgive it, but they will never forgive insincerity," he pointed out.
Commenting on relatively unsuccessful United Russia's performance during elections in some regions, Medvedev suggested it was a result of low popularity of regional party leaders and the formality in their work -which was basically focused on election campaigning.
People had no idea about what the party did, Medvedev noted. He believes United Russia should speak about its progress, but, he underlined, not "carrying it to the point of absurdity" as it was in the Soviet Union – when everyone thanked only one party.