Russia declares day of mourning over tragedy on the Volga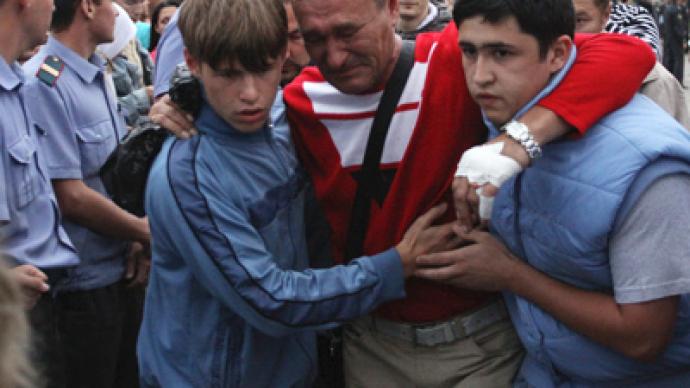 President Medvedev has declared July 12 a day of national mourning for the victims of the "Bulgaria" cruise ship that sank on the Volga River on Sunday. A state commission will be set up to investigate the circumstances which lead to the accident.
On Monday, the president held a meeting to address the tragedy at his Gorki residence outside of Moscow, urging a "total" inspection of all vessels that provide passenger service.
Medvedev instructed the government to form a commission which will look into the circumstances of the deadly incident in the Republic of Tatarstan.The commission will be headed by the Minister of Transportation Igor Levitin.The president pointed out that such accidents would not occur if the safety rules and norms of technical administration were followed.
Medvedev ordered the Prosecutor General's Office "to examine scrupulously the activities of the shipowner, the officials who issued river-worthiness certificates and all others who were involved in one way or another," cites Itar-Tass.
He emphasized that the investigation should be especially thorough given the number of children who are among the victims of the disaster.
"Please summarize all of the conclusions," he said. "This must be done not only concerning this particular accident, but all the ships of this class and other classes in general."
According to the president, the number of "old tubs" in Russia is beyond acceptable limits. He said that the situation should be examined and ship-owners must be made to either do capital repairs to their vessels or stop using them all together.
There were 208 people on board the Bulgaria double-decker boat, including 25 unregistered passengers, The Emergencies Minister Sergey Shoigu told the president at the meeting. "We still have to look at how they got there," he added.
Eighty people were rescued and nine of them were hospitalized.
"Unfortunately, after divers examined the ship, we can say that there is practically no chance of finding any survivors there," Shoigu said.
Meanwhile, new details of the tragedy are only now coming to the surface. Citing a representative of the Volga transport prosecutor's office, Interfax news agency reports that the Bulgaria voyage was operating illegally since the carrier was not licensed to transport passengers.
According to the Tatarstan Emergencies Ministry, the number of those who survived the accident has decreased to 79. One of the passengers who had paid for the trip and was previously believed to be among survivors never actually stepped foot on the vessel due to illness.
The ship was built in 1955 in Czechoslovakia. It sank on its way to the Tatar capital of Kazan, 3 km from the shore in waters that were 20 meters deep. The Bulgaria was certified to carry a maximum of 120 passengers.