Medvedev calls on governors to develop programs for single-industry cities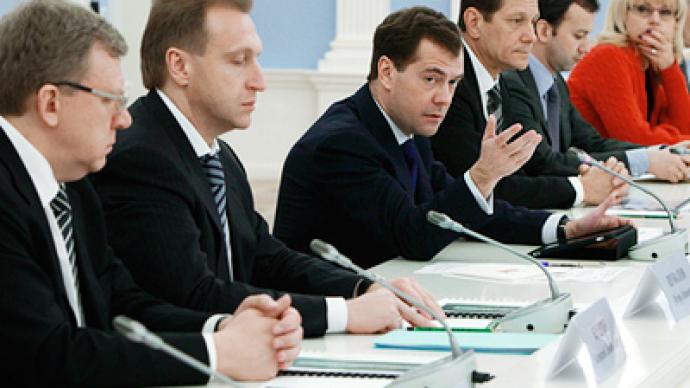 Regional authorities must support the efforts of federal agencies to create jobs and enterprises in small towns and remote districts, the president said.
Each region should formulate programs for a better investment climate and the creation of new jobs, President Dmitry Medvedev said at a meeting devoted to employment issues on Monday. Clear-cut programs and measures to support investment projects and create new jobs will be one of the indicators to assess the working efficiency of governors, he warned.According to methodology of International Labor Organization, the unemployment rate had declined in Russia to 5.4 million people (7.2 per cent) by the beginning of 2011. However, only 1.6 million people are officially registered as unemployed. During the active phase of the economic crisis, new jobs were created in small business thanks to appropriate programs, the president said. This could serve as "a guideline" in the work directed at single-industry cities, settlements and remote districts. In some regions the employment situation is traditionally difficult, Medvedev said, referring to the North Caucasus.Special attention should be paid to monocities, or single-industry cities where the problem is very acute. The government had developed programs for the creation of alternative jobs that are being implemented in 35 such cities, Medvedev noted. Regional authorities will be obliged to develop their own measures to support small businesses, self-employment and public works.Russia has over 300 single-industry cities, and each one should have its own development program to provide employment and modernize city-building enterprises. However, these programs should be realistic and based on the actual conditions of the regions, as their capabilities are different, the president stressed.To attract private business into such cities, the government will consider state support instruments that do not need direct budget funds. Anti-crisis measures helped curb the unemployment rate, Medvedev said, adding that the government now has to focus on long-term programs to build up the labor market. He also suggested that big enterprises should be encouraged to modernize and create highly-qualified working places.In order to improve the situation on the Russian labor market, up to 800,000 jobs must be created, the president of the Russian Union of Industrialists and Entrepreneurs, Aleksandr Shokhin, said at the meeting. "Last year, about one million jobs were created, but these are mostly temporary employment," he was quoted by Itar-Tass as saying. Currently, there are 20,000-25,000 new jobs created every month, but this is insufficient, Shokhin said. There are about ten million so-called "bad jobs" in the Russian economy, "which don't provide normal salaries and don't meet standards," he added.
You can share this story on social media: