Medvedev won't rule out second term as Russian president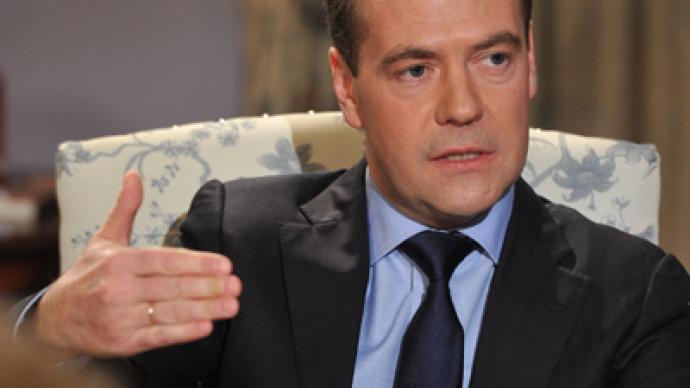 In a wide-ranging interview, Russian Prime Minister Dmitry Medvedev spoke with French media about his possible return to the Kremlin, working with Vladimir Putin, the need for "tougher laws," Pussy Riot and Mikhail Khodorkovsky.
­Medvedev would not rule out running for a second term as president of Russia, he said.

"If I have enough energy and health and if our people entrust me with such work in future, I do not rule out such a turn of events, of course,"he told AFP and Le Figaro ahead of his visit to Paris, adding that such a move would depend on "a whole entity of factors."

"Generally, one should never decline anything. Never say never, as you know," Medvedev said.  "Especially since I have entered this river already and this is a river that can be entered twice."

Medvedev, who served as president of Russia from 2008 to 2012, said that he "worked honestly and openly" during his term.

He also claimed that he did not allow himself to become too attached to the job, as an inflexible attitude makes changing careers "a tragedy."

Medvedev also said that he "can't imagine" that he would have accepted his post were it not under the presidency of Vladimir Putin.

"It's not that easy when having been a president you move to Prime Minister's chair, even though it's a very difficult, large-scale and interesting work," Medvedev said.
New laws do not restrict freedoms
Medvedev dismissed allegations that after Vladimir Putin's inauguration as President, the Kremlin has been tightening the screws. 
"I don't know how you look at it. If you feel that screws are being tightened, that media is not free, and that everything is bad – maybe it really is so? In my view, it is not," the Prime Minister told French reporters. 
Current "political construction" in Russia is significantly different from that, for instance, in 2008, he observed. The country has recently come back to direct elections of regional governors and introduced much simpler rules for the registration of new political parties. In October, 25 parties took part in municipal elections, Medvedev noted. About a hundred more have filed applications with the Ministry of Justice "and they will certainly be established." 
Medvedev also commented on the so-called anti-rally law that dramatically increased the fines for unsanctioned gatherings and introduced more regulations over street protest. 
"After all, the goal of rallies is to show one's attitude to the government or anything else rather than to stage carnage," he underlined. The state's task is the regulation of rallies' procedure. 
"It's absolutely normal that the law is being improved," Medvedev observed.  
The law was introduced after a wave of anti-government protests swept through the country following last year's parliamentary poll. 
"Our civic society has changed, it has become more active and the government should take it into consideration and react to that," the Prime Minister noted in his comment about the rallies.
He believes that back then, he managed to find an appropriate response to the situation and, when still being President, initiated changes to the country's political system, including the law on governors' elections. Medvedev is confident that those moves helped to calm down "at least" part of protesters, as they saw that they can influence political situation.
Asked whether the new laws had restricted freedom, Medvedev said: "I do not think that is so. He went on to comment that the degree of freedom is measured only individually.
"What does a 'free person' mean," he asked rhetorically.

In response to his question, he said "This is not the person who is told by the government, 'You are free.' No, a person is free when he feels so irrespective of the place of residence – whether it be Russia, Europe or Africa."

­
'Foreign Agents' – an imported product
Medvedev then discussed new amendments to the Criminal Code concerning political rallies and "foreign agents," which broaden the definition as to what may be considered acts of high treason.
The Prime Minister, pointing to current trends, said he does not believe the new legislation restricts political freedom.

"If there had been information that the (new legislation) had forced a number of non-governmental organizations to leave, close down or otherwise had created problems with control, those would have been serious arguments for lawmakers and me,"
Medvedev acknowledged.
"But I do not have such information, which means this is a question of legality, which have had neither negative nor positive effects as yet."
In July, Russia's lower house of parliament passed a bill forcing non-government organizations (NGOs) engaged in political activity with the assistance of foreign financial support to be classified as "foreign agents."

Additionally, such political NGOs must inform the Justice Ministry about any foreign funding they receive that is greater than 200,000 roubles (about $7,000), according to the amendments that fall under the Law against Money Laundering and Terrorism Funding.
The Russian Premier suggested that the impact of the legislation will be monitored and even changed if the need arises.

"The law is living material, and it may be updated," he said.
Medvedev noted that Russian lawmakers borrowed the term "foreign agents" from the legal practice of other countries.

Concerning the question as to what constitutes "high treason," Medvedev said "technical legal issues change certain circumstances in the determination of elements of the crime. Nothing extraordinary has changed:  this is purely a question of legal technique," he said.
­
Position on Khodorkovsky and Pussy Riot unchanged
Dmitry Medvedev reiterated his earlier stance on the sentence given to the Pussy Riot band members who performed their 'punk prayer' in Moscow's Christ the Savior Cathedral. He said he really dislikes what the young women did, but they have already spent enough time in jail.
The three members of the band were arrested in March, and in August a court sentenced them to two years behind bars.
"Taking into consideration the fact that they spent quite a long time in pre-trial detention, I think that they know already what it is like in prison. And in this sense, the state has already demonstrated to them its punitive possibilities, and explained to them that they must behave properly from the legal and moral points of view,"
Medvedev stated.As for the jailed former Yukos CEO Mikhail Khodorkovsky, the PM said that
"any person who is in jail deserves pity, as it is a very grave punishment."
On the other hand, he observed, it is up to court to decide on penalty.  In late 2010, a Moscow district court sentenced Khodorkovsky and his business partner Platon Lebedev to 14 years in prison. Later, their sentences were reduced by one year.

Medvedev pointed out that the court ruling can be appealed and, also, any convict has a right to file for a pardon. If the two businessmen asked the President for pardon, then the head of state could decide whether to grant them it or not.

"I was never sent this request," he said.

Earlier, the then-President Medvedev said he sympathized with Khodorkovsky's "unfortunate" fate. However, the presidential right to pardon prisoners can only be used when a plea is submitted.
­
In support of Syrian defensive weapons sales
On the subject of Syria, which is in engaged in a protracted conflict that pits a rebel opposition against pro-government forces, Medvedev defended Russia's right to provide the government with defensive weapons.
"Our military cooperation…has always had an absolutely legal and open nature – we have never delivered to the (government of Syrian President Assad) anything that fails to comply with international conventions," he explained in response to a question as to why Russia, despite its neutrality, continues to supply weapons to Syria.

Russia only provides weapons for defense against external aggression, which is supported by a contract that "we are obliged to fulfill."

The Russian premier, citing Iran as an example, stressed that all kinds of supplies would be halted if in the event that international sanctions are introduced against Syria.

Medvedev acknowledged that Russia complied with the decision of the UN Security Council, but at the same time ran into a legal dispute with Iran over the fulfillment of a weapons contract.

We made our choice in favor of the decisions of the international community, he said, while adding that is the reason that Russia maintains a "rather limited cooperation" in the sale of defensive weapons to Syria.