Medvedev wants courts' work to be more effective
Published time: 2 Jun, 2010 19:38
Edited time: 3 Jun, 2010 17:49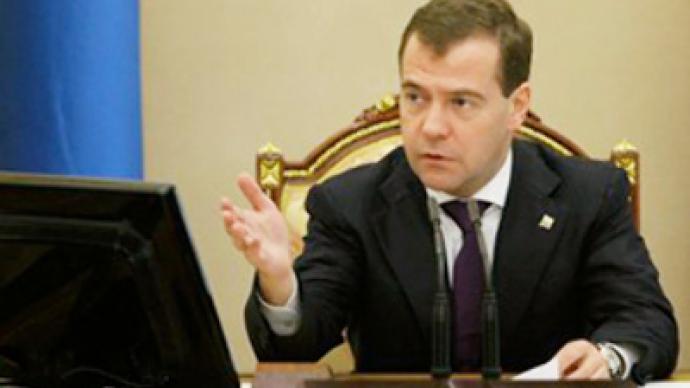 President Dmitry Medvedev has discussed the issues of developing judicial system with the heads of higher courts. They considered proposals for improving the work of the Constitutional and general jurisdiction courts.
Participating in the meeting held on June 2 were the chairmen of the Constitutional Court, the Supreme Court and the Supreme Arbitration Court, Prosecutor-General Yury Chaika, Justice Minister Alexander Konovalov and presidential aides.
New legislation on economic crimes and changes to tax and civil-procedural legislation were also discussed. In particular, the changes concern the right of tax authorities to collect taxes, fees, penalties and fines within set limits without a court decision.
"This measure can be interpreted in different ways, and before we take a final decision it is necessary to decide how, on the one hand, to make the work easier for courts, and, on the other, not to destroy the fundamental principles of our judicial system and not create problems for citizens," he stressed.
The participants also discussed ways of securing the principle of continuity of legal proceedings and procedure of taking final decisions. Another topic concerned the creation of the possibilities to appeal in courts of general jurisdiction against judgments in criminal cases.
Medvedev also proposed the consideration of "the rather resounding topic" of limiting the use of arrests for economic crimes and deciding "if corrections are needed or Supreme Court directives will be enough."
The Russian State Duma in spring voted for presidential amendments limiting the use of pre-trial arrest for economic crimes. It should now be used only as an extreme measure, but questions still remain.
Some of these questions were raised by jailed oil-tycoon Mikhail Khodorkovsky, the former head and key shareholder of Russian oil company Yukos, who went on a hunger strike in May. He protested against a decision to prolong his stay in custody, saying that "the presidential will was ignored."
The issues discussed at the presidential meeting concern the Khodorkovsky case among others, Izvestia daily said, citing sources in judicial circles. Some explanations may follow soon, the paper noted.
Medvedev made it clear that the meetings regarding developing judicial system will be held on a regular basis. "The effectiveness of legal proceedings is one of guarantees of the rights and freedoms of our people to secure full property rights and, as jurists put it, other rights and interests protected by law," he said.
Such meetings will not boost people's confidence in courts, but "they may influence the increase of legal proceedings' effectiveness, believes Mikhail Barshchevsky, the government's representative in the Constitutional Court, the Supreme Court and the Higher Arbitration Court.
According to him, Western businessmen often mention corruption and distrust of the legal system as negative factors. "It is difficult to solve these problems with 'five meetings'," he told Nezavisimaya Gazeta daily. But if they are held on a regular basis, judges will feel that there should be changes "because the president tracks the developments," he added.
Sergey Borisov, RT