Medvedev upholds Russian arms ban after US school massacre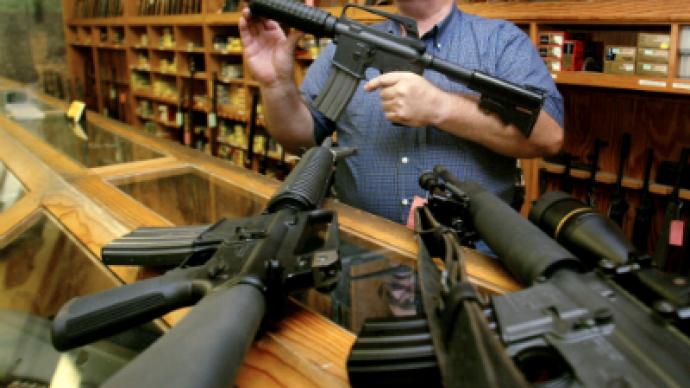 Prime Minister Dmitry Medvedev has reiterated his stance against the legalization of keeping and bearing arms in Russia, following the US school shooting which claimed the lives of 20 children and six adults.
"It's a horrible tragedy, immeasurable pain. I totally agree with those who are against free arms circulation. This is my principled position," Medvedev wrote on his Facebook page.The Russian Prime Minister expressed his condolences on the Friday tragedy in Newtown, Connecticut, adding that "this monstrous crime cannot be justified." "Our thoughts are with the families of the killed children," Medvedev said. Earlier in December, the head of the government spoke against the legalization of guns in an interview with Russian TV channels. In the US, he said, where bearing and keeping arms is considered part of "American mindset and their legal and political culture," many deaths occur because of improper and criminal use of weapons. "I believe by no means we should go down that path," Medvedev underlined. In 2010, as Russia's President, Medvedev tightened control over the use of non-lethal arms. He signed a law that increased liability for the illegal use, and trafficking of civilian firearms and other offensive weapons. The move followed a sharp rise in crime using shotguns where many people got wounded or even killed. However, despite these incidents, recurring massacres in other countries and a recent mass murder in Moscow, a large group of activists insist that Russians should have a right to carry weapons to be able to protect their lives from criminals. Sandy Hook gunman Adam Lanza, managed to bring all his three guns to the school illegally "as bearing weapons on its territory is banned," observed the leader of the Russian movement "Right to Arms," Maria Butina. Besides that, Connecticut state law requires residents to be 21 years old in order to possess a handgun, while Lanza was 20. "How all these prohibitions can stop a criminal who plans a massacre?" she said in an article published by Izvestia daily.According to the pro-gun activist, the deadly incident only proves the inefficiency of the prohibitive policies on civilian weapons. Six adults in the school had nothing to oppose the criminal and protect themselves and children, Butina noted.