Hello to arms: Russian activists fight for right to carry weapons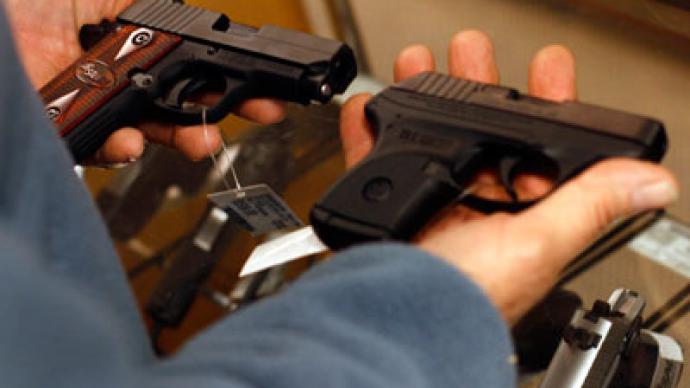 A new movement seeking the legalization of keeping and bearing arms in Russia is going to hold its founding congress in mid fall. The organization hopes to get support from political parties and the Orthodox Church.
"The right to life, and, respectively, the right to protect one's own life as well as the lives of those in danger from criminals is the basic inalienable right enshrined in the constitution, Law of God and humane law," the new movement called "Right for Arms" states on its website.Its founders are confident the project will be a success: the organization already has branches in 23 Russian regions, writes Izvestia daily. "We are going to hold our first congress and after that register as an interregional or, if we are lucky, as an all-Russian organization," the leader of the movement, Maria Butina told the paper.The movement cooperates with a large range of organisations and individuals, including Church representatives, liberals, rightists and leftists, nationalists and independent publicists. Senior Orthodox Church official Archpriest Vsevolod Chaplin said in an interview with "Right for Arms" that self-defense and the protection of one's family is considered "a religious duty" in Christianity. He stressed though that all the pros and cons should be considered before citizens are allowed to legally purchase and keep arms. The movement also enjoys the support of a number of registered political parties and cooperates with Liberal Democratic Party representatives in the State Duma, Butina says. However, at the moment "Right for Arms" is not planning to participate in politics directly. Butina assures that "there's not any bloody lobby" behind the movement: it is financed by enthusiasts, active members of the group who pay dues from their salaries. "I personally have a furniture and household appliances business. Another our activist – 'a micro-sponsor'- is a geologist," she noted.According to a recent poll by a Russian research center, over half the people are in favor of legalizing the right to purchase short-barreled weapons by law-abiding citizens. 45 % of those questioned are strongly opposed to the idea. The survey also revealed that the majority of people are confident that the adoption of a law on the right to keep and bear arms will lead to a rise in crime in the country. Only 14 % of respondents are confident that it would be the opposite, while 9 % think there would be no change. "The legalization of guns is only possible in a stable society," Igor Korotchenko, editor-in-chief of National Defense magazine told Izvestia. But given the social gaps in Russia, lack of stability in the North Caucasus and a large number of domestic conflicts, it is unlikely the idea would be supported by the government, the expert believes. The lawmakers have to consider the interests of the entire society rather than separate groups.