Government's performance on ecology a disgrace – Medvedev
Published time: 8 Jun, 2011 10:45
Edited time: 8 Jun, 2011 17:57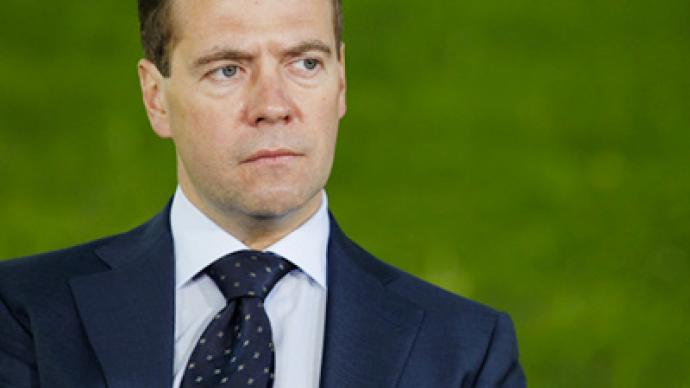 Russian President Dmitry Medvedev has voiced his dissatisfaction over the government's failure to fulfill his orders given last year on improving legislation on environment protection.
On Wednesday, the president had an informal meeting with representatives of ecological non-governmental organizations at the Kremlin's Tainitsky Gardento to discuss ecological issues.
Medvedev asked the Minister of Natural Resources and Ecology Yury Trutnev to present a report on changes in the legislation on ecology protection that were applied following the State Council's session on ecology issues in spring 2010.
According to the minister, three bills were submitted to the lower house of parliament, the State Duma, for consideration and three more documents are still waiting for the government's approval.
"I am absolutely not interested in what legislation has been drafted and what is at the government for approval. The government's Constitutional duty is to issue bills rather than simply develop them," Medvedev stressed, as cited by Interfax.
The president pointed out that he regularly holds meetings on environment protection, but not all the decisions made at such meetings are being executed well enough. Addressing Trutnev, the president pointed out that a whole range of bills were developed after the State Council's session, but none of the documents were signed into law.
"It's simply a disgrace," Medvedev said. He said that if there is an agreement to act within set time frames, and for some reasons it is impossible to do so, the government should inform the presidential administration. "We have our own leverages. After all, I can join in. If [the legislation] got stuck, you should have called me and said that," the president noted.
Businessmen to face "demonstrative punishment" for crimes against ecologists
Speaking at the meeting, president Medvedev called on local authorities to stop unfounded attacks on environmentalist organizations. He also warned that any businessman who commits a crime against ecologists will face a show trial, no matter how rich one is.
The president observed that ecological NGOs are involved in "complicated public activities which can often cause a bad headache" and sometimes they even fall victim to a crime. The same has been happening in other countries, but such offences have lately been on the rise in Russia, which is "an alarming signal". It means that people who are interested in "lobbying and pushing forward their projects are not ashamed or afraid of making decisions" on committing a crime against environmentalists.
Medvedev stressed that if a link between such a crime and a businessman – even if one is on Forbes' top 10 list – is detected, the businessmen should face a "demonstrative punishment".
He also urged officials, primarily in the regions, to respect green organizations. According to the president, ecological NGOs are often unboundedly accused of being involved in politics.
"I believe it is a wrong stance," Medvedev said. Authorities should deal with public structures no matter if they like them or not since they represent political power. And "power should be tolerant of any organizations that do not violate the law," he stressed.
Ecologists came up with a number of proposals which were handed over to the president by Elena Topoleva-Soldunova, a member of the Public Chamber. Among the initiatives is an adoption of a law on public ecological control. Topoleva-Soldunova noted that the public watchdog already efficiently performs monitoring the situation in prisons and a bill on public control in orphanages is currently being drafted.
"We also need public ecological control," she stressed. "We need mechanisms that would make consideration of public opinion obligatory, so that business can't ignore public demands as well."
In addition, environmentalists suggested reviving public nature protection inspections. They also believe that public councils should play a more active role in environmental protection. To make their work more efficient, participants of the meeting proposed incorporating ecological NGOs into such bodies.
Today such councils are mainly "decorative", Topoleva-Soldunova observed. "They consist of different celebrities and hold no meetings for years," she added.
Ecologists believe that every department or ministry should be stimulated to cooperate with NGOs and volunteers. As an example of a lack of such cooperation she recalled coordination problems between the Emergencies Ministry and volunteers during last summer's fires caused by abnormally high temperatures.