Medvedev discusses Libya with African Union chairman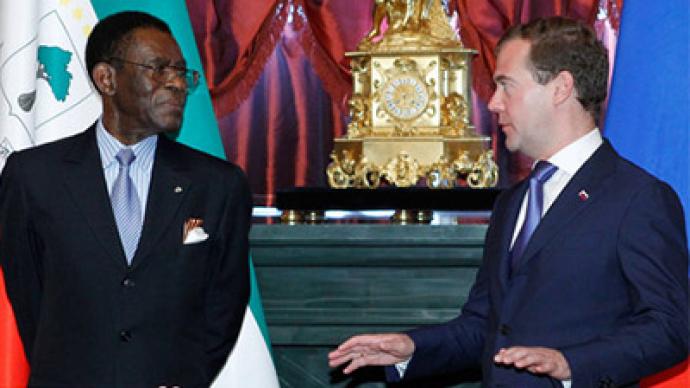 Moscow and the African Union are synchronizing their positions on international positions and the latest developments in the North Africa.
On Monday, President Dmitry Medvedev welcomed his counterpart from Equatorial Guinea and chairman of the African Union (AU), Obiang Ngema Mbasogo in the Kremlin. Bilateral ties, Libya and Syria were among the main topics they discussed during the talks.Russia recently praised efforts of the African Union aimed at settling the situation in Libya. Russia is interested in sustainable development of African counties, and it also supports the African Union's efforts to settle conflicts "which prevent stability and socio-economic growth in African states," the Kremlin's press service said.Following the recent discussions with Western partners, the Russian president has decided to send his North Africa envoy Mikhail Margelov to Libya. The special representative will hold talks with the Libyan government and representatives of the opposition forces in Benghazi.Like Russia, the AU favors a diplomatic solution of the Libyan conflict. The chairman of the organization's commission, Jean Ping, told his European Union counterparts on June 1 that one "cannot find a solution by brushing aside Africa." He made it clear the AU should have a "fundamental role" in the Libyan settlement. Russia and Equatorial Guinea on Monday also confirmed their readiness to develop bilateral relations, including in the military-technical area. In the presence of the leaders, Russian Foreign Minister Sergey Lavrov and Equatorial Guinea's Defense Minister Vicente Eya Olomo signed relevant inter-governmental documents on the co-operation in that field. Also, the agreements on the protection and encouragement of investment were signed.  The memorandum on mutual understanding concluded between the foreign ministries envisions maintaining the mechanism of political consultations.The expansion of the economic relations was also high on the agenda, as the fuel and energy sector is important for both sides. Russian companies are interested in participation in projects in Equatorial Guinea. In particular, Gazprom Neft Equatorial BV and Guinea Ecuatorial de Petroleos agreed on the details of the co-operation.
You can share this story on social media: