Tandem TV time out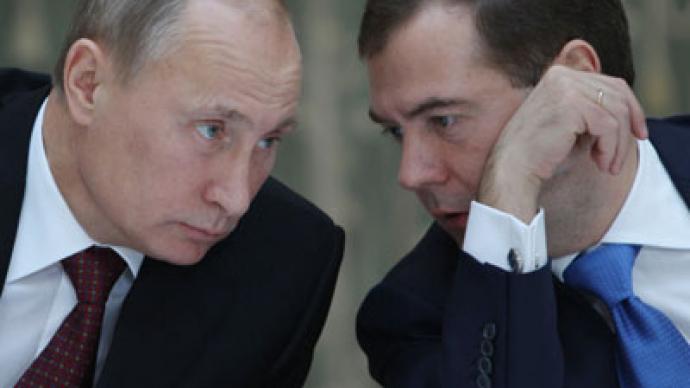 President Dmitry Medvedev has postponed his annual address to the Federal Assembly, while Prime Minister Vladimir Putin has also deferred his traditional televised Q&A session. Both events will take place after the December 4 parliamentary elections.
"The fifth State Duma will not hear the president's address. The sixth State Duma will," the speaker of the lower house of parliament, Boris Gryzlov, said, as cited by Interfax.
The Kremlin has not yet announced exactly when Medvedev – who heads the United Russia party list for the election – will deliver his final presidential address to the parliament. Initially it was planned that the president would present his speech on November 23.
According to an official who is familiar with the process of the address preparation, the reason behind the delay is that the text of the speech is not fully ready yet, gazeta.ru online newspaper writes. Earlier the president had no time to read the draft text because of his tightly-packed schedule. In November Medvedev participated in G20 summit in Cannes and APEC meeting in Honolulu, visited Germany and toured several Russian regions.
"This year's address is crucially important," Vladimir Pligin, the chairman of the State Duma Constitutional Law Committee, told the newspaper. This will be a final address of the current political cycle. During his presidency, Medvedev has set a number of strategic goals, including "the creation of a juridical state, the development of democratic institutions," fighting corruption and addressing the problem with the demographic situation in Russia.
Citing experts, the paper writes that the delay might be connected with pre-election strategies. Medvedev and Putin's frequent TV appearances have not increased United Russia's popularity rating among voters. In addition, the presidential address could undermine the ruling party position rather than strengthen it.
Igor Bunin from the Center of Political Technologies also expressed his doubts that Medvedev's busy timetable is the reason for the shift of the address date. He noted that the president lacks a clear ideological concept.
"Medvedev is getting closer with Putin, while still trying to maintain his modernization concept," he said, adding that it does not really go well. "It is not quite clear what to talk about in the address."
This will become the first time in modern Russian history when the president's State-of-the-Nation address is presented so late in the year. Vladimir Putin and his predecessor Boris Yeltsin delivered their speeches in spring. Medvedev has become the first Russian president to present his address in autumn.
The annual live TV phone-in session with Putin will also take place after the elections. His press-secretary Dmitry Peskov told RIA Novosti that the Q&A will be held in its usual format and Putin's plan to run for presidency in March next year will not affect it.