Founder of MMM financial pyramid offers to save Belarusian economy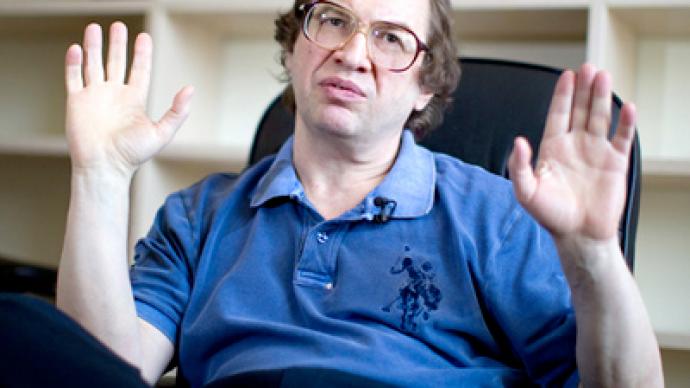 The man once labeled in Russia as a fraudster has allegedly come up with a way to curb inflation in Belarus – to open branches of his new financial scheme.
Mavrodi, who has chosen video addresses as the best means of persuading potential clients – and now even heads of state – asked Belarusian President Aleksandr Lukashenko to authorize the MMM scheme. The plan could save the Belarusian economy from the devaluation of the national currency and foreign currency deficit. The "financial genius" promised Lukashenko the scheme would stop inflation and the fall of the national currency. In Russia, where he was once convicted for destroying the savings of about five million investors according to estimates, Mavrodi has tried to create a new financial pyramid scheme, which largely exists only as his blog on the internet rather than as a real financial instrument. He is convinced his MMM financial pyramid helped in the 1990s to curb inflation along with short-term government bonds, GKOs. If the authorities in Belarus use the same methods, they will manage to improve the country's ailing economy, he says. Some believe that the MMM-2011 project, banned in Russia, was just a PR stunt invented before the release of the movie "PyraMMMid". But by directly addressing the Belarusian leader, Mavrodi is dragging his new scheme to an international level. The financial pyramid will attract and "tie" people's savings and offer the Belarusian authorities' grace which they badly need now, Mavrodi said. Lukashenko has not responded to Mavrodi's offer. The Belarusian leader recently promised to stabilize the economy in one or two months, but the national bank had to devalue the country's currency. Some analysts believe that only foreign loans may save the Belarusian economy. Russian Financial Minister Aleksey Kudrin said this week that Belarus may get $1 billion from the anti-crisis fund of the Eurasian Economic Community (EurAsEC) and another $1 billion in each of the next two years. But the option of Russia extending credits to Minsk is not under consideration now, he said. EurAsEC's funds are not sufficient, Kudrin said, adding that Belarus will have to go to the International Monetary Fund (IMF). Moscow is ready to support Minsk's request, he added.
You can share this story on social media: