Mass rallies held as Belarus readies for presidential poll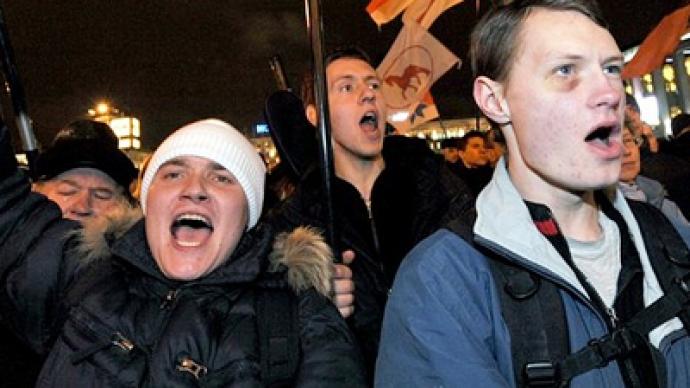 Two mass rallies have taken place in the Belarusian capital in one day. The scale of protest made it unusual, but even more unusual was that the authorities made no attempts to break up the unauthorized demonstrations.
The rallies were officially presented as meetings between presidential candidates Vitaly Rymashevskiy and Nikolai Statkevich. But the event took place on the anniversary of the 1996 referendum that broadened the powers of the Belarusian President, and that was strongly criticized by the nation's parliamentarians and opposition politicians. Another candidate, Vladimir Neklyayev, joined the demonstration after it started. The protesters, whose numbers vary greatly in reports from different agencies (from a few dozen to 5000), carried banners and chanted slogans calling for President Aleksander Lukashenko to step down. Since 1999, Belarusian law enforcers used to disperse any anti-president rallies quickly and efficiently, but on Wednesday they chose different tactics. Several uniformed officers were present at the event and they warned the demonstrators that what they were doing was illegal and threatened bad consequences both for presidential candidates who organized the rally and for those who attended. On Thursday, the Prosecutor General's office issued a warning to Rymashevsky and Statkevich over their calls to rally. The election commission will decide on November 30 about their future participation in the presidential poll.However, the two candidates said that the Wednesday demonstration was just a rehearsal of the event they plan to hold late on December 19 – the night when the election results must be officially announced. President Lukashenko who has held the post since 1994, is often criticized for the authoritarian style he uses to run the country. Apart from broadening his powers in 1996, Lukashenko suggested changes to the constitution that removed the two-term limit for a single presidential candidate in 2004 and the amendment was approved by a national referendum. However, the amendment was approved by the parliament only after the 2006 presidential election (which Lukashenko also won) and the country's opposition says that election should be declared invalid. The next presidential election in Belarus is due to take place on December 19. At present, there are ten registered candidates, including Lukashenko.
You can share this story on social media: