Lukashenko fires new jibes at Russia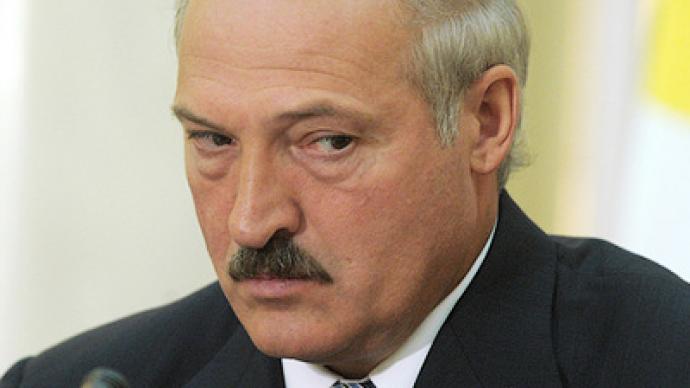 Belarusian President Aleksandr Lukashenko has yet again pounced upon Moscow. This time, he is accusing his neighbor of doing everything possible to make him lose the presidential vote on December 19.
"This is true: they are doing everything to make me lose the election," Lukashenko stated in an interview with Polish media, cited Interfax.And that is not the only sin that Russia is accused of. According to Belarus' long-standing leader, Moscow is also to be blamed for ruining the union agreement between the two countries, as well as an attempt to lay their hands on Belarusian enterprises.He recalled that Russia and Belarus were to hold a referendum on the constitution of the Union, which would define the way things would work within it. But Moscow, Lukashenko stated, did not want to do that and "mucked up" the Union agreement. Russia's offer to introduce a single currency for the union was one of the main stumbling blocks."Why should we start building a house from the roof?" is how the Belarusian leader explained Minsk's unwillingness to support the idea.Continuing his attack against the Kremlin, Lukashenko added that Russia could see only its economic co-operation with the former Soviet Republic as "free privatization of what there is in Belarus"."They are trying to bend: a president not like Lukashenko should be more co-operative malleable here," he said. "But our people are not going to accept that kind [of a president]. You [another president] will be tested along the lines of Lukashenko," he added.Belarus' long-time leader feels quite confident and still comfortable in the presidential chair, which he has occupied for 16 years now and does not want to leave.Commenting on the Polish journalists' remarks that in Europe it would not be possible to remain in the post for that long, he was quite clear. "That's your problem," he said, adding that in Belarus and in Russia it is possible. When the Polish journalists recalled that Vladimir Putin is not the President of Russia, Lukashenko responded with a sarcastic joke: "Really? Who is [the president] then?"The Russian-Belarus information war has been going on for quite a while now. Back in October, following yet another round of political pinches, President Dmitry Medvedev said in his video blog that "President Lukashenko's utterances not only go beyond all diplomatic sense, they are downright indecent."However, it seems, Lukashenko is not preparing to stop, and is ready to stake his all before the election.His three-hour long interview with the Polish media came as a follow-up to the German and Polish foreign ministers' trip to Minsk last week. While promising Belarus their backing, the European partners stressed that Belarus can only expect their support if the country holds democratic elections. Lukashenko did not hesitate to promise that this would certainly be the case and "elections will be held in compliance with the highest democratic standards."Polish Foreign Minister Radoslaw Sikorski said he would hold Lukashenko to his word.
Pressure on Russia?
Commenting on the Belarusian leadership's tough rhetoric, Aleksandr Shatilov, deputy general director of the Center for Political Conjuncture, said it "has already become a tradition." However, such "emotional statements are rather an attempt to exert pressure on Russia than a real start of an anti-Russian course," he told Actualcomment.ru website. "The path to the West is closed for the Belarusian leadership, and it may co-operate in a constructive way only with Russia," the analyst said.At the same time, there are objective economic conflicts between Moscow and Minsk, related to different approaches in conducting economic policy, Shatilov believes."Such statements do not contribute to the normalization of relations between the two states," he said. "Russian politicians sometimes say similar things… In the end, the two sides will come to an agreement about a kind of compromise, more or less acceptable for both of them." Belarusian analysts are explaining Lukashenko's "brave" statements by the fact that Moscow "has eased pressure against Minsk and the West has stepped up activities in the region," Kommersant daily said. The paper quoted Yaroslav Romanchuk as saying: "Calm in the information war, Russian observers' refusal to co-ordinate their activities during the presidential elections in Belarus with the Organization for Security and Co-operation in Europe and Moscow's reluctance to support an opposition candidate has made Lukashenko think that if Russia does not support him during the elections, then it will not oppose him either." According to Romanchuk, "Brussels will be trying to come to an agreement with Lukashenko before the election, and then, if [the negotiations] are not successful, Moscow will sort him out next year," the paper said.However, another Belarusian analyst, Valery Karbalevich, told the daily that Lukashenko was trying to calm Belarusian voters in his interview, and simultaneously "frighten Moscow" by his possible co-operation with the West.
Natalia Makarova, Sergey Borisov, RT
You can share this story on social media: