Lukashenko is a bit late in showing he's offended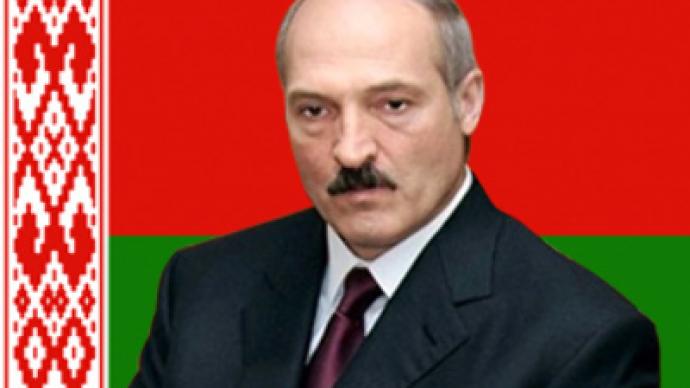 Analyst Fyodor Lukyanov dwells on how the idea of Russia and Belarus being allies came to the brink of failure due to the enormous ambitions of the Belarusian President and unthought-of strategies of the past.
Numerous accusations on the part of Belarusian President Alexander Lukashenko have lately gone beyond acceptable political correctness. So much so that Dmitry Medvedev, the president of Russia, had to appeal to the people of Russia and Belarus to find a way out of the situation together, while all the diplomatic ways of smoothing relations between the two brotherly and allied states have been exhausted.
RT: Why are Russia and Belarus, being in allied relations, now resorting to open mutual accusations?
Fyodor Lukyanov

- member of Council for Foreign and Defense Policies

- editor-in-chief of Russia for Global Affairs magazine

- journalist, political analyst, expert on global affairs

Fyodor Lukyanov: There are objective reasons for that, apart from the fact that the presidents' personal relations did not grow into a friendship. They are that the conditions for existence of an allied state of Russia and Belarus have been exhausted.
The allied state was created in the second half of the 1990s, when Yeltsin and Lukashenko were in power. Lukashenko gained economic concessions, which enabled him to maintain the country and preserve power. In turn, Russia got a loyal partner who publicly expressed its friendliness.In my opinion, this was the way Yeltsin tried to smooth his emotional injury from the Soviet Union's collapse, which he was accused of. So by this alliance he wanted to indicate a new direction of integration.
RIA Novosti / Sergey PyatakovIn the 2000s, Putin was less sentimental on this issue. The first cooling of relations was in 2004 before the Orange revolution in Ukraine, which took place later in 2007. Putin once said that Russia's and Belarus' potentials are 97 to 3, and it's strange to speak about equality, so let us be guided by the abovementioned proportions. It led to the first aggravation, and ever since relations have only become worse. Putin offered Lukashenko to think over the idea of Belarus joining Russia, but he replied that the idea of eliminating Belarus as an independent country and dividing it into regions did not come even to Stalin. Since the two countries continued to share political interests, Russia kept supporting Lukashenko. Moscow was satisfied with the pro-Russian government in the country and continued to subsidize Belarus despite mentioning the economic disproportion.
RT: The way you describe it shows that the alliance was needed, the contradictions were resolved and there were no preconditions for a break-up…
FL: Yes, but neither the economic integration developed nor a common currency emerged. From a certain point, the Belarusian people stopped being ready to join the allied state. There was no progress in relations as those issues required settling, and the whole idea of an allied state started losing ground. Lukashenko acted in return. He is risky, venturous and tough. He tried to put pressure on Russia, as he had all the instruments for that. Finally it led to a direct political confrontation displayed in the attitude to Bakiyev [president of Kyrgyzstan, overthrown in April 2010 who found political asylum in Belarus – RT ]. Lukashenko gave him asylum and a tribune, especially emphasizing his solidarity with Bakiyev, as a legitimate and illegally expelled leader of a CIS country.We have to realize that Lukashenko replies to every thrust against him. He always reacts to every statement or TV program.So following the story of this relation, we can say that an allied country as an imitation of an alliance was exhausted. They had to either develop relations or terminate them.
RT: So what will Belarus now gain from the alliance's collapse?
Lukashenko's wrong moves

- Good neighborly and blackmail-free relations with Russia ruined, thus increasing the risk of a blockade and loss of the Russian market for agricultural exports

- Did not win a deal with the US over Abkhazia and South Ossetia's independence recognition issue in 2008

- Did not develop any alternative economic ties with other (largely anti-US) countries

FL: It won't be able to gain anything. It will get into a situation of hard pressures which the Belarusian economy will not be able to survive without losses. Although there were attempts at diversifying the Belarusian economy – with China and Venezuela – all of them failed. Belarus will be in a very difficult situation without the Russian market, Russian-subsidized raw materials and a visa-free regime, if it comes that far. But Russia won't enjoy it much, as it will lose politically. The break-up will put an end to the Customs Union [established in 2007 between Russia, Belarus and Kazakhstan, coming into force in July 2010 – RT ). Within the Collective Security Treaty Organization relations, Belarus will move to the hostile camp (the Treaty was signed by the CIS countries in 1992 – RT ] which promises new gas pipeline problems, although it won't be as critical as it was with Ukraine in 2005.
RT: The US and Europe will not miss an opportunity to help Belaru,s which is quarrelling with Russia, will they?
FL:Lukashenko is a bit late in showing he's offended. If he had acted against Russia in autumn 2008 after the conflict in South-Ossetia, he would have been heard in the West. At that time, all the post-Soviet assets were in demand. Many would have called the Belarusian democracy a true one and labeled Lukashenko as appropriate for the West. But the situation has changed. Nobody forgot the aggression in Georgia, but it ceased to be an important factor in politics, including the way the US is viewing it. And now, when Lukashenko actually showed that he won't recognize the independence of Abkhazia and South Ossetia, he cannot turn it into profit. The EU is absorbed with resolving its internal problems; economic and political institutions do not work as they are meant to – all that undermines its position of an inter-state operator.Americans are also occupied with their own issues: Obama' s absorbed with issues in the Middle East, Afghanistan, Iraq; and new economic exacerbation is on the way.What is possible is a "friendly" push in the back of Russia by China. Save that China declares that it does not participate in politics, it can easily give the friendly Belarusian people a couple of billion dollars – it's nothing for China. From China's viewpoint, it's pure economics. I think that Lukashenko will look for help elsewhere, but in Europe or the US.
RT: Lukashenko has just visited Turkey in search of such help. There he met not only the president and the prime-minister, but also the Ecumenical Patriarch Bartholomew, the most significant of the Orthodox patriarchs, who at the same time seems very pro-American.
FL: There is no adequate alternative to the alliance with Russia to be found there, but he is trying to

Lukashenko's poor timing

- Europe is in the midst of economic and social turmoil

- The US is engaged in long-running conflicts in Asia and the Middle East

- No wide support for anti-Russian statements now, and no prospective allies either in Eastern Europe or among the Commonwealth states

obtain certain economic assistance. The meeting of Lukashenko and Patriarch Bartholomew is also very important. The Russian Orthodox Church and Patriarch Bartholomew are in a concealed implacable fight, first of all in Ukraine. I think that looking for an alternative, Lukashenko could meet with the Ecumenical Patriarch who strongly supports all the break-up processes among the solid Orthodox Churches and discuss different issues with him. Lukashenko with his self-assertion easily could have discussed with him the issue of establishing an independent Orthodox Church in sovereign Belarus, as now it's part of the Russian Orthodox Church. He really could look for the support of Bartholomew in this issue. It's more complicated than looking for economic support, but it's quite likely as a deal with mutual profit.
RT: What's the likelihood that Lukashenko would actually start selling the S-300 anti-aircraft missile systems or their likes to Iran in exchange for some economic help? He already started talking about the anti-missile defense when he pointed out that Belarus is Russia's protection shield from the West.
FL: I think that shipping S-300 systems to Iran would be Lukashenko's big and last mistake from the viewpoint of both Russia and the USA. Both these countries would in this case be able to say that he's not only making daring statements but also violating UN sanctions with his actions. As for his being concerned with the whole anti-missile defense issue, this is true. When NATO started expanding several years ago, Belarus was unwavering in its standpoint never to join NATO and be an anti-missile defense shield for the Union State.
RT: What's your vision of a solution in this situation in general?
Lukashenko's best bets?

- Making a deal with China would secure investments to support Belarus for a while

- Befriending Ecumenical Patriarch Bartholomew might open a way for the Belarusian Orthodox Church to separate from the Russian Orthodox Church – in this matter, it is not so much about the end result as the pains of the process

- Selling S-300 systems to Iran might win him some short-lived support as a defender of justice from the Muslim world and Europe's leftist movements

FL:It is a sad and serious conflict. Lukashenko has long since been showing his temper. The deal had to be made at the very start in order to prevent downright confrontation. A blockade between Russia and Belarus is the worst thing that could possibly happen to our nations, which are closely-related as blood relatives. If you decide to have a decent relationship with a neighbour who's less wealthy than you are, you must pay – in other words, this union must have been invested in to in order to remain strong.
RT: But Russia has been supplying oil and gas to Belarus at reduced prices for 20 years – it has been the generous gift of a brotherly nation, and a much larger one that what the US is paying to establish a loyal regime.
FL: That's correct. But this connection shouldn't have been ruined by bad personal relations between the governments. With Lukashenko's drive, a heated and eloquent verbal duel could erase the 20 years of brotherly help out of the nation's memory, replacing it with a fresher memory of a break-up. Lukashenko would surely do his best to remind his people of how Belarusian partisan fighters fought to the death to protect the Russian people in World War II, only to be given some really base ingratitude in return. This situation has no good solution. It would have a solution, should another candidate from Lukashenko win the December elections. But there is no such candidate in Belarus. With the words fired between Russia and Belarus, we are getting close to the kind of relations we have now between Russia and Georgia, dreadful as it may sound. Our only remaining hope is that Lukashenko will cool off and let the closeness of our people matter more than a disagreement.
Nadezhda Kevorkova, RT