Social disadvantage meets poor policing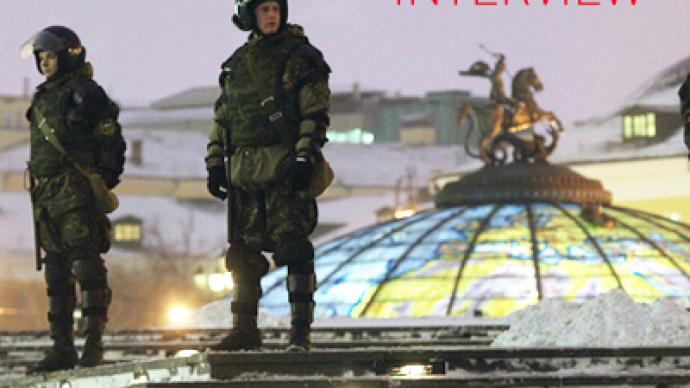 Vladimir Mamontov, the president at "Izvestiya", Russia's oldest and biggest federation-wide newspaper, believes Saturday's nationalist riots in central Moscow should be thoroughly investigated before making conclusions on what measures to take.
On the eve of Constitution Day, On December 11th, Moscow saw a large-scale act of civil disorder, which took place right outside the Kremlin. Over 5,000 young men, guided by masked instructors, started shouting out slogans aimed against people from the Caucasus. The young men then proceeded to beat up bystanders of non-Slavic appearance. The Moscow police authorities admit they were informed the demonstration was going to take place on that spot, but chose not to use water cannon, mounted officers or gas to drive away the protesters.The act of civil disobedience was formally triggered by the killing of one of the football fans, which occurred on December 6th. The suspects in the murder case have been placed under arrest.According to official information, following Saturday's violent rally seven people were sent to hospitals and 34 people were given medical aid. Ten criminal cases have been opened on the beatings.President Dmitry Medvedev assured the public that the people who organized the "pogrom" would be found and punished. Chechen leader Ramzan Kadyrov said the rally was another attempt to ruin the Russian Federation, made after an all-out war in the Caucasus failed to do that.The Russian Internet though is teeming with calls to continue the violence. Migrants from the Caucasus are either called on to respond to the violence or to stay at home. Football fan groups claim they had nothing to do with the violent rally.Vladimir Mamontov believes that too many questions currently remain which neither the authorities nor the community can answer. Mamontov is the president at "Izvestiya", Russia's oldest and biggest federation-wide newspaper. He has been head of "Izvestiya" since 2005. Mr. Mamontov has been involved in journalism for 35 years and is also a member of the Russian Public Chamber.RT asked him how he assessed what happened on Manege Square on December 11th.
Vladimir Mamontov: We have to examine it. Was it well-organized? What role did the instigators play? Were there any instigators? Who are they? We have to study it all very carefully. So far the details of what happened are unclear, even though I've read most eyewitness reports, it seems. I can say for the moment that this event was like a multi-layered cake. There are many levels to it. For now we can state that a crowd assembled and started a fight. This story is testimony to a big, unresolved problem of the Russian people's unity.The media conducted polls on those days. Many of the polls showed that radical viewpoints are quite popular. This fact is hard to deny. It indicates, in any case, that unresolved social problems exist in Russia.We saw many young men, one could almost call them children, at Manege Square. We could see that they were children from low-income families. Marginalized youth. We could see some of them were not sober. We could see traces of disease – not a social disease but a physical illness – on their faces. We are witnessing deep social fragmentation.All of these problems we have to look at through a magnifying glass. Bit by bit. One of the blogs tells a story about a doctor from the Caucasus who receives a patient fresh off Manege Square. The doctor is amazed that his patient considers himself more fair-haired and light-skinned than the doctor, even though that is not true. An Ingush and an Armenian will treat this kid. The blogger hopes that would help the young nationalist get his perspective right.Some commentators say we need to prevent further escalation of hate in society. Others want the police regime to be strengthened. But we can't put a policeman on every corner. It's a big problem. We have let it slip as we talked about it. We try to solve problems in the Caucasus with money, but sometimes when you come to a Caucasian village you find out – to your great surprise – that you are the first guest from Russia to visit them in the past 20 years.The situation requires diligent work.RT: Would journalists be calling for diligent work if those young men were protesting not against ethnic Caucasians but, for instance, Jews? Would we be hearing stronger statements today?VM: I think that, whoever they protest against, we have to look into the situation. Do you want to talk about the principles of tolerance? Tolerance is encouraged in society, of course. Tolerance can be exploited, and we know of a lot of incidents in which the idea of tolerance was strongly speculated on. People were forced to be tolerant, which is, in itself, an oxymoron.RT: How can you explain that the riot and the act of mass terror based on race hatred occurred in the heart of the Russian capital, and in response the media encourage us to address the problems of children from unfavorable social backgrounds?VM: It's not about tolerance. It's all about an attentive and friendly approach to those issues, no matter who's beside you and who's advancing on you with any kind of slogans.Many people do not like the word tolerance because it's not obvious what it means. Many people answer to appeals for tolerance by saying that they have been brought up on such values as friendship, understanding and love, rather than tolerance. This is strong Soviet heritage, which lives in us. Is tolerance better than friendship? In our understanding tolerance means patience. They ask me to be patient when somebody does something violating my perception of acceptable behavior.We've seen very painful events in the Caucasus. We must remember them. But should we demand that a guy from the outskirts with a lot of diseases and no prospects for future demonstrates such an in-depth understanding of it? No, we should treat him, give him a job, and only then should we try bring it home to him how complicated our society is. We must be working on making him his country's patriot without beating up others. People like Tajik street-sweepers having nothing to do with his misfortunes.RT: Head of Moscow police Vladimir Kolokoltsev declared that they knew that the riot was to take place on Manege Square. Why did they allow that madness happen there? VM: I don't know. If they knew, they should have taken severe measures. One should first avoid a fight, and only then discuss what caused it. If one knew about it in advance, why did they get into that crowd all by themselves? By the way, many have pointed out that the police that have been heavily criticized over the past years did protect people. If not for them, there would have been deaths. If we try to assess the overall performance of the police, I would not give them a positive assessment. No, they worked badly. They allowed them onto the square and then tried to squeeze them into the metro, which then saw their rowdiness.
RT: Is that normal that head of the police was talking to a man in a mask for two hours?VM: The situation was somewhat extreme. It required personal courage from the general. And he demonstrated it. It was too late to decide then who was to go to the crowd. So he just went there and talked. As for the mask, this is impudence of course. But this is life. I am not ready to condemn him. I don't want to believe this was staged. He went there himself instead of sending his subordinate.RT: Would it make sense to use water cannon and disperse the crowd, rather than talk to them for two hours to see them go then and beat up people?VM: I don't know. I have nothing against dispersing a crowd of hooligans, no matters what their slogans are.There are marginal individuals in any country. Aggressive ones must be outlawed not only in terms of legal regulations, but also in terms of social mechanisms. But that's just the tip of the iceberg.RT: And what's the problem itself?VM: It's important to understand that there is in-depth marginal unrest, and we shouldn't forget about them if we want to avoid a repetition of what happened on Manege Square. We must assess and name the problem correctly – that's how we can hope to resolve it. We – members of national, religious and social organizations – must agree with each other. We must seek and find explanations as to why we live in our country and why the Caucasus, the Far East, Siberia, the Urals, the Volga Region and the North have been united into one country, being its indivisible parts, and why we need each other, and those explanations must be universal for all peoples and diasporas. But we must be honest and say when we do not understand each other.We've come through difficult times. Now some want to re-open old wounds. Don't ask me who – this is to be investigated by special services. We need journalistic investigations. It should be studied by researchers and experts. It should be discussed by public councils and NGOs. In other words, this issue must be discussed, rather than hidden away. Then we'll have a chance to overcome it by taking joint action.
Nadezhda Kevorkova, RT
You can share this story on social media: