London sends 'Magnitsky list' to Moscow Embassy - report
Published time: 2 Sep, 2012 18:08
Edited time: 23 Oct, 2012 23:39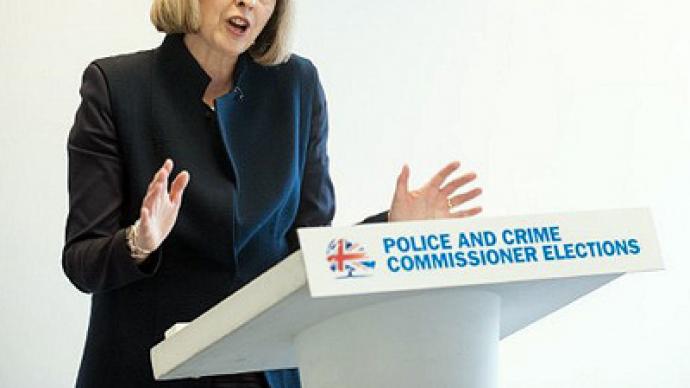 A list of 60 Russian intelligence officers and high-ranking officials barred from setting foot on British soil for their alleged role in the death of investment lawyer Sergey Magnitsky has been reportedly delivered to the British Embassy in Moscow.
­The list was sent by Home Secretary Theresa May, the Sunday Times reported, without specifying when exactly the document was delivered. According to the weekly, Britain's immigration minister, Damian Green, had disclosed details of the blacklist in a letter written to a fellow Tory MP. The list of 60 officials, including prosecutors, judges, tax inspectors, police and prison chiefs, was allegedly delivered to the British Embassy in Moscow, the letter states.

"[It] will be considered if an entry clearance application is received from any of the named individuals," the daily quotes Green as saying. The British MP stressed the need for a fair investigation into the death of Sergey Magnitsky, adding that the UK routinely prohibits entry to human rights violators.
The UK's lower house of Parliament first called on visa bans and asset freezes for the 60 Russian officials in March, though rumors of the list's existence first circulated last October.
Tory MP Dominic Raab reportedly welcomed news of May's decision, saying "this is an important British step in the international campaign to prevent the persecutors of Russian dissident Sergey Magnitsky from waltzing into the UK or buying up property with their blood money."

The UK authorities have never officially confirmed or denied that the British variant of the Magnitsky list actually exists.
Magnitsky, a 37-year-old lawyer working for Hermitage Capital Management Fund, was arrested by Russian authorities in 2008 on tax evasion charges just days after accusing police officials and state employees of conducting a $230-million corruption scheme. He argued that it was made possible after tax refunds were issued illegally using documents from companies belonging to Hermitage Capital. It has been called the biggest unsolved case of tax fraud in modern Russian history.
Magnitsky died of a heart attack while in a Moscow pre-trial detention facility a year later as a result of being denied adequate medical care.
Implementation of the "Magnitsky list" could plunge already chilly relations between Russia and the UK into a deep freeze.
The press service of the Russian Embassy in London announced that on Monday, Russian Ambassador to the UK Aleksandr Yakovenko will demand an explanation in connection with the Sunday Times publication about "the alleged introduction of entry restrictions [for Russian officials] connected with the so-called 'Magnitsky list,'" Ria Novosti reported.
Magnitsky's death has attracted worldwide attention and criticism. In July 2011, the US State Department issued visa bans on several dozen Russian officials in connection to the Magnitsky case. Russia retaliated by baring entry to several US officials.
Even a bill to be considered by the US Congress which would extend Permanent Normal Trade Relations to Russia and repeal the Cold War-era Jackson-Vanik amendment, a restriction on trade with the Soviet Union inherited de facto by the Russian Federation, is likely to be combined with the Sergey Magnitsky Rule of Law Accountability Act.
The so-called Magnitsky bill would institute both a visa and freeze of American-domiciled assets for people accused of involvement in the lawyer's death, and would penalize other alleged human rights abusers from Russia.

"If there are any limitations to the US for any Russian citizens, there will be appropriate entry limitations for a certain number of Americans," Russian President Vladimir Putin said at a press conference during the G20 Summit in Mexico in June.
Following a July decision by the Organization for Security and Cooperation in Europe to pass a non-binding resolution calling on its members to impose sanctions against those implicated in Magnsitky's death, Russian experts called the move "political."
Maksim Griboryev, president of the Foundation for the Study of Problems of Democracy, said punishing Russian authorities for Magnitsy's death was akin to if "the Russian parliament decided to freeze the assets of the US military responsible for the tortures at Guantanamo."