Russia wants guarantees on Libya's loose weapons
Published time: 27 Oct, 2011 12:46
Edited time: 27 Oct, 2011 16:50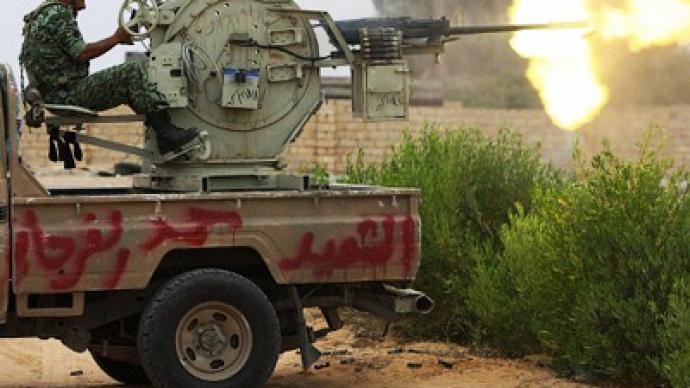 Russia has proposed a draft resolution of the UN Security Council to address the threat of weapon proliferation following the collapse of Gaddafi's government.
­
The Foreign Ministry has said that unguarded Libyan weapons, particularly the shoulder-launched surface-to-air-missiles (SAMS), pose a serious threat to regional and international security.
"Unguarded Libyan weapons may endanger regional peace and security," Deputy Foreign Minister Gennady Gatilov told Interfax on Thursday. "The question of portable rocket launchers and other weapons disappearing from storage is of particular urgency."
Shoulder-fired SAMs have been used effectively in various military conflicts, including the Arab-Israeli wars, Vietnam, the Iran-Iraq war, and the Falklands conflict, as well as conflicts in Angola, Nicaragua, Yemen, Uganda, and the Balkans conflict in the 1990s. 

Gatilov confirmed that Russia has raised the issue at the UN Security Council and submitted a related draft resolution. 
"The draft is almost co-ordinated and may be put to a vote within days," the Russian diplomat said.

The Deputy Foreign Minister stressed that the outgoing authorities are mainly responsible for co-operating with the new authorities in order to safeguard Libya's weapons cache.

"It appeals to the Libyan authorities and neighboring countries to prevent the proliferation of armaments," he said. "We think that the biggest responsibility lies on the incumbent authorities of Tripoli and hope for their appropriate conduct."

Gatilov mentioned that there is also a directive to draft a recommendation on the deterrence of the arms proliferation threat for the UN Security Council, specifically in the realm of combating terrorism.
"The Council's Libya sanctions committee will draft the recommendations jointly with the Counter-Terrorism Committee Executive Directorate," he said. "They will draft the recommendations jointly and present them to the UN Security Council. The document will… highlight the threat coming from the proliferation of Libyan armaments, in particular, in the sphere of terrorism."
Libyan leader Muammar Gaddafi, who ruled for 42 years, was captured and killed on Oct. 20 by members of the National Transitional Council in Sirte. The circumstances surrounding Gaddafi's mysterious death, however, has cast a shadow over the opposition's victory party, while forcing outside observers to question the legitimacy of the new authorities and their ability to govern the Northern African country effectively and responsibly.
Judging by the way Gaddafi met his grisly fate at the hands of his captors, Russia has every reason to be concerned about the current level of leadership in Libya, not to mention the way they are handling the issue of weapons proliferation.