NATO will never replace the United Nations - Lavrov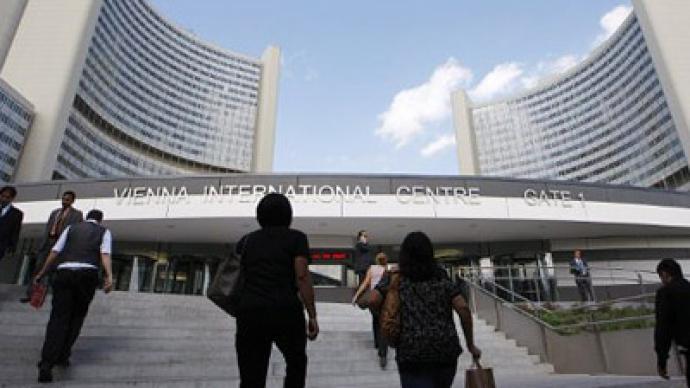 With Russia increasingly alarmed by NATO's marked readiness for intervening in the internal affairs of foreign countries, Moscow has reminded Western leaders of the United Nations' irreplaceable position in the global architecture.
­Despite attempts by individual politicians to assign international functions to NATO, the Western military bloc will never replace the UN, says Russian Foreign Minister Sergey Lavrov, who is in New York for the 66th UN General Assembly Session.

"NATO – or to be more exact, some of its representatives – has been attempting to assume the role the UN plays since the 1990s," Lavrov said in an interview with Rossiiskaya Gazeta. The Russian Foreign Minister said this behavior continued "until the 2003 invasion of Iraq, when Germany and France did not support their NATO allies."

At this point in history, Lavrov said, NATO was forced to acknowledge that "the international community does not recognize its operations as legitimate if they are not approved by the UN Security Council."

For Russia, the most glaring breach of international law came with NATO's air campaign against Serbia in 1999 in an effort to force the Yugoslav Government of former President Slobodan Milosevic to withdraw its forces from Kosovo. The UN Charter forbids military intervention in sovereign nations except in those cases agreed upon by the UN Security Council. Russia argued at the time that "such unilateral use of force constitutes a flagrant violation of the United Nations Charter."

Meanwhile, the NATO charter specifies that the Alliance is an organization created for defense of its members, but in the case of Yugoslavia, it was used to attack a non-NATO country that was not directly threatening any alliance member.

Lavrov noted that a joint declaration on co-operation between the NATO and UN secretaries-general was signed in 2008, while the alliance's strategy asserts its pledge to comply with international law.

"NATO's compliance (with international law) should not be confined to just paper, but manifest itself in its members' collective action. This is of crucial importance," he said.

The Russian foreign minister then mentioned the ongoing conflict in Libya, where rebel soldiers are in a fierce struggle against forces loyal to Muammar Gaddafi. UN Resolution 1973 authorized "the protection of civilians as well as the safety of the delivery of humanitarian assistance and a decisive step for the cessation of hostilities."

NATO forces in the Libyan theater have overstepped the UN mandate, Russia says, and this will be a major talking point in New York.

"The discussion in New York will definitely center on how the NATO coalition has been fulfilling the UN resolutions on Libya, and whether its actions conform to the mandate issued by the UN Security Council, primarily in defending civilians.

"We have quite a few questions to ask NATO here," Lavrov added.

Lavrov's comments came on the opening day of an international security meeting in Yekaterinburg, where Secretary of the Russian Security Council Nikolai Patrushev offered his thoughts on the use of force as a means for solving global problems.

Although efficient in the short-term perspective, the use of armed forces may have contradictory after-effects in the long-term that are very difficult to predict, he said.

"Staking on force has brought no lasting democratic solution in either of the conflicts worldwide," Patrushev, former head of the FSB, said at the second international meeting of high representatives in charge of security issues.

"We can enhance security in the face of threats and challenges of the 21st century only with the use of new tools," he said. "First of all, it is a dialogue, relaying on mutual trust, due account of each other's interests, responsible and conscientious co-operation."

According to the secretary of Russia's Security Council, "the world is still far from acquiring universal rules that would legalize international interference into internal conflicts, and guarantee it lacks any bias and is efficient at the same time."

Meanwhile, interference in the internal affairs of sovereign nations is proceeding under various pretexts, such as "preventing mass casualties of peaceful civilians, rendering humanitarian relief aid, or promoting political settlement," Patrushev said.

These lofty slogans are being used to "carry out unilateral or bloc-backed interference with an aim to overthrow the ruling regime, provide access to natural resources, or win control of vital transportation routes, often by-passing the United Nations Security Council," he said.

According to Patrushev, the overwhelming majority of conflicts that influenced global and regional security in the past two decades began as internal conflicts, which is "absolutely obvious…in the dramatic developments in North Africa and the Middle East, in particular in Libya, and now in Syria."

The current global security architecture still contains remnants of the Cold War, which reduces complex global crises to a simplistic "friend or foe" pattern that naturally leads to an escalation of conflicts.

"Such an approach diminishes efforts to avoid mistakes and errors," he stressed.