Libyan operation starts NATO's southward enlargement – Russia's envoy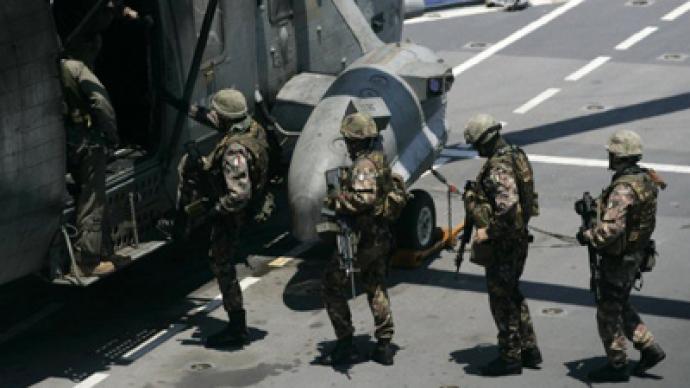 The Western military alliance is dragging itself into preparations for a ground operation in Libya and gradual expansion to the south, Russia's ambassador to NATO Dmitry Rogozin believes.
"The war in Libya means the end of the alliance's eastward enlargement and the beginning of the southward enlargement," the envoy stressed. Rogozin was speaking at a conference on missile defense, organized by the Royal United Services Institute for Defense Studies in London on Wednesday.  It was not accidental that Poland and the Baltic states opposed the NATO participation in the Libyan operation, Rogozin argued. This removed the traditional issues of NATO enlargement, including one involving the states of the former Soviet bloc, from the agenda. While the UN Security Council's resolution on Libya seems to be "a well-composed symphony, its NATO's interpretation looks more like jazz," Rogozin said ironically. Now the alliance is interpreting resolution 1973 as it likes and is legitimizing its "new aims for air strikes," he noted.NATO member states are getting more and more deeply involved in preparations for a ground operation in Libya, Rogozin told reporters after the conference. "Our NATO partners claim these targets are legitimate."At the same time, the choice of targets for air strikes is also expanded sporadically. The conflict has "a domestic nature," Rogozin said, adding that the involvement of third countries could pose a threat to security in the region. He described the situation in the North African country as "a civil war complicated with contradictions between tribes." Other countries' participation could only internationalize the conflict. This policy would also result in breeding "extremism and hatred of Western ideology in the Arab world," Itar-Tass quoted the envoy as saying. Moscow is ready to assist the sides of the conflict in negotiations to reach a peaceful agreement. The Russian president's special representative to the region, Mikhail Margelov is meeting on Thursday with Libyan Prime Minister Baghdadi Mahmudi, Foreign Minister Abdul Ati Al-Obeidi. The consultations with people around Libyan leader Muammar Gaddafi is a necessary step towards the settlement, Rogozin believes.Margelov, who has met with Gaddafi's opponents, said they want the current ruler to step down and his family to withdraw from the system of economic decision-making. But the Libyan opposition can put up with the prospect of Gaddafi's residing in Libya after resignation, Margelov assumed. The Arab states are known for their "tradition of forgiveness and reconciliation," he noted.