Medvedev: Russia won't participate in military operations in North Africa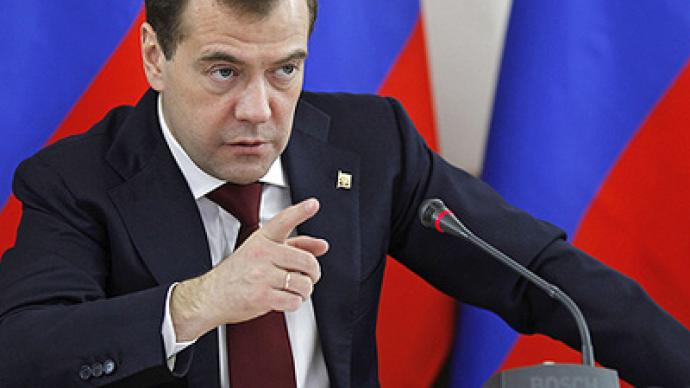 President Dmitry Medvedev has confirmed that Russia will not take part in military operations to settle the situation in Northern Africa.
However, it will comply with decisions made earlier by the UN Security Council."We believe that a whole range of ongoing conflicts must be resolved peacefully, without troops' participation and based on international mediation," the Russian head of state said on Wednesday at a meeting with high-ranking officers. Medvedev reiterated that Russia is not going to take part in military operations which are now underway in "that rather difficult region".  "We will proceed from this stance in implementing our foreign policy as well as in making domestic decisions – I underline – while fulfilling the earlier decisions by the UN Security Council," he stated.Since the beginning of the year, a storm of anti-government protests has swept through Arab countries, which resulted in a change of power in Egypt and in Tunisia. A February standoff between the Libyan leader Muammar Gaddafi's forces and the opposition has led to a bloody conflict with many civilians among the victims, which still seems to be far from an end.Seeking to bring stability to the North African state, on March 17, the UN Security Council adopted Resolution 1973 which imposed a no-fly zone over the country and authorized "all necessary measures" to protect civilians. Russia abstained from voting because the text of the document did not strictly determine limitations on the use of military force and lacked clarifications on who exactly would use that force to ensure that the no-fly zone is observed.  Earlier, commenting on Moscow's decision to abstain from voting rather than veto the resolution, Medvedev said that the document generally reflected Russia's stance on the situation in Libya, but there were certain details that Russia did not support. Back in March, the President made it absolutely clear that Russia would not participate in the Libyan operation – both in the air and on land.
Army and police should join efforts in war on terrorism
During the Wednesday's meeting with top officers, Dmitry Medvedev also spoke about a number of domestic issues, including the situation in the North Caucasus. The president called on the Army and law enforcement agencies to unite in the fight against terrorism and to do everything possible to not allow destabilization in Russia's troubled region. "I would like to underline again that it is necessary to obtain intelligence about criminal plans and promptly respond to attempts to destabilize the social-political situation in the North Caucasus. Cooperation between various services of our Armed Forces and law enforcement agencies is crucially important here," he said, according to Interfax. The president pointed out that in a modern world where situations change rapidly, foreign intelligence services also face special tasks. "Timely analysis of the international situation helps the state leadership to promptly make decisions on both internal and external political issues," Medvedev observed. He stressed that developing cooperation between intelligence services would be very useful for that purpose.  Medvedev also noted that the state, for its part, would fulfill its obligations concerning social guarantees and earlier promised indexation of salaries for officers serving both in the army and in the law enforcement agencies.
You can share this story on social media: