Russia did not veto in UN to protect Libyan civilians - Medvedev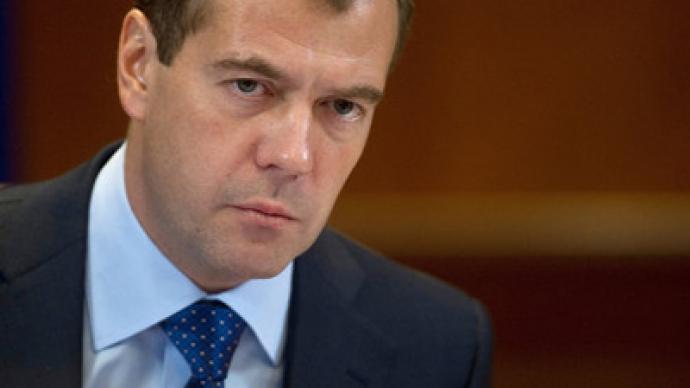 President Dmitry Medvedev has said that the UN Security Council's resolution 1973 on use of force in Libya was reflecting Russia's stance, albeit acknowledging certain flaws in the document.
"I do not think this resolution is wrong," Medvedev told reporters in his suburban residence Gorki on Monday. The document reflects Russia's understanding of what is going on in Libya, he said. The president added that this was the reason why Russian diplomats did not veto the resolution during the voting and said that he personally instructed the Foreign Ministry on the issue. "The Foreign Ministry fulfilled my instructions," he said. However, Russia does not support certain details in the document, the president said."All that is going on in Libya is connected with outrageous behavior of Libya's authorities and the crimes that were completely against their own people. We must not forget about it. Everything else is simply a consequence," the president said.Dmitry Medvedev expressed hope that the coordinated effort of the international community will result in peace in Libya and also that the conflict will not spread over African territory and to the territory of other states.At the same time, the Russian leader completely ruled out Russia's participation in the Libyan operation, both in the air and on land. "We will not take part in any operations to close the airspace, we will not send any contingents if, God forbid, this operation would eventually be the land one, which I cannot exclude today," Medvedev told reporters.According to the president, one should be cautious in assessing the situation in Libya. "It's unacceptable to use terms that will essentially lead to a collision of civilizations like 'crusades' and the like," Itar-Tass quoted him as saying. "This is unacceptable."The resolution adopted on March 17 demands an immediate ceasefire and authorizes the establishment of a no-fly zone over Libya to protect civilians.Russia has abstained in the UN Security Council vote on the resolution authorizing the use of force in Libya, but Medvedev amended the Russian legislation in accordance with the resolution, banning the sales of arms to Libya and also refusing Gaddafi and his close circle the right to enter the Russian Federation. At the same time, Russian officials have repeatedly criticized the resolution and warned that it could lead to a lengthy war with numerous casualties.The Russian president voiced support of the UN resolution on Libya on the day when US Defense Secretary Robert Gates arrived in Russia for his official three-day visit. The trip had been delayed because of the start of operation Odyssey Dawn. Gates is scheduled to meet with President Dmitry Medvedev and Defense Minister Anatoly Serdyukov for talks on a number of defense and security issues.
You can share this story on social media: