UN Security Council must consider Libyan situation on a regular basis – Lavrov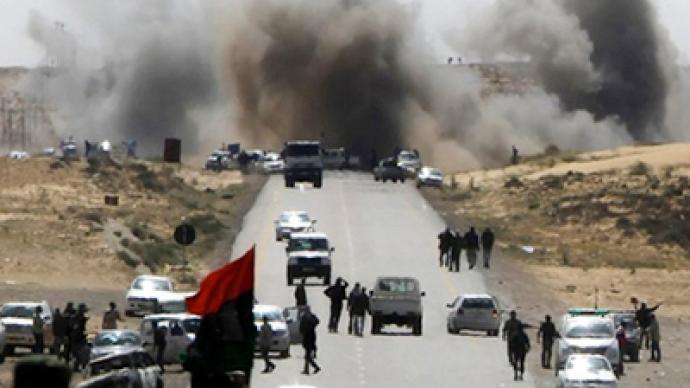 The United Nations Security Council must and will regularly discuss the Libyan crisis, the Russian Foreign Minister Sergey Lavrov stressed.
The diplomat stressed that "no matter what calls we hear from Tripoli" or the rebel-controlled Benghazi, the UN Security Council must routinely consider the Libyan topic at its sessions. On March 17, the body passed Resolution 1973 which imposed a no-fly zone over the North African state and authorized "all necessary measures" to protect civilians. By adopting the document, Lavrov said, the Security Council approved a relevant mandate that is currently used by NATO and a number of other states who are taking part in the settlement of the operation in Libya.  "These states are obliged to report to the Security Council on how this mandate is fulfilled," Lavrov said speaking at a joint media conference with his Bangladeshi counterpart Dipu Moni in Moscow. Lavrov also recalled that the UN Secretary General's special envoy to Libya Abdelilah al-Khatib briefed the Security Council on Monday on his recent visit to Libya. The envoy met with both Muammar Gaddafi's government in the capital Tripoli and the rebel Transitional National Council (TNC) based in the eastern city of Benghazi. "[The envoy] should regularly present such reports," the Russian top diplomat stressed. He added that Abdelilah al-Khatib should not only speak about facts. "And there are quite a few issues here that we would like to get more clarity on," Lavrov noted. According to the minister, the special envoy should also report on how he is fulfilling his work to further the "normalization of the situation". Moscow has also called on the Arab League and the African Union to take a more active part in the political process aimed at helping the Libyan people bring stability to the country. Lavrov recalled that the very idea of imposing a no-fly zone over Libya was initiated by the League of Arab States. "Of course, we would be interested to know the League of Arab States' position regarding the development of the situation," Sergey Lavrov said.The minister also pointed out that Russia would like explanations concerning NATO forces' possible military aid to the opposition. If the rebels' calls to the alliance mean a request to provide military support, "it would be interference in a civil war" which has not been sanctioned by the Security Council, Lavrov stressed. "We want to understand what is behind these calls and what the countries who assumed the responsibility for implementing the UN Security Council resolution think about it," Lavrov said.
You can share this story on social media: