Latvian president prepares Moscow visit as nationalists "repatriate" Russians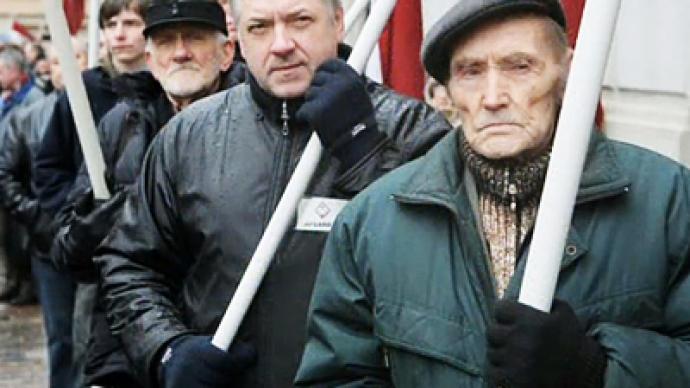 As Latvia's President prepares for his first-ever official visit to Russia, Latvian society is still divided over fate of millions of Russian alien residents.
Valdis Zatlers will visit Russia on December 19-21, the head of the presidential office, Edgars Rinkevics, said at a news conference on Friday. It has taken a long time to set the date of the visit, and media speculated it had been delayed several times. The Latvian leader will visit Moscow and St. Petersburg. Zatlers is expected to sign treaties with the Russian leadership on a simplified procedure of border crossing, on the fight against organized crime, environmental protection, tourism and others.Latvian media has already advised the country's Foreign Minister Girts Kristovskis not to accompany the president during the visit. He has recently found himself in the center of a scandal over his e-mail correspondence with a Latvian nationalist living in the US, Aivar Slutsis.The foreign minister allegedly supported doctor Slutsis' Russophobic statements, including one where he said he could not treat Russians in the same way as Latvians. Kristovskis insisted he agreed only with Slutsis' proposals concerning the fight against corruption and the defense of the state.Observers predicted the scandal over the foreign minister could delay the Latvian president's visit to Moscow. Nationalist proposes "affirmative action"  This week, Slutsis offered even more radical measures, publishing an open letter in Latvian newspapers. He suggested that "the discrimination of Latvians should be ended" and proposed for this purpose "the repatriation of Russians."  Latvians need "super affirmative action" now, Slutsis said. He suggested that about 500,000 Russians living in Latvia be repatriated, Rosbalt news agency said. For Latvia, the war did not end in 1945, the nationalist reportedly said, adding that "the Russification of Latvia is continuing."Members of the United Nations human rights committee would hardly agree with Slutsis' conclusion. Also this week, they ruled that the Latvian law on the state language breaks the norms of the international pact on civil and political rights. The law obliges all Russian-speaking citizens to add the letter "s" to the end of their surnames. Former co-chairman of the Latvian committee on human rights Leonid Raikhman demanded that he should have the right not to use the Latvian ending "s" in his name in official documents. The UN committee treated the requirement of Latvian legislation as an interference in people's private lives. Human rights activists now expect the parliament to amend the law within six months.Moscow intends to discuss the situation with human rights in Latvia and Estonia with European leaders during the Russia-EU Brussels summit on December 7. "We need a human rights dialog with the European Union," Russia's EU envoy Vladimir Chizhov told Interfax. There are, unfortunately, such "traditional" subjects as the position of Russian minorities in these countries, he said.
Sergey Borisov, RT