Kyrgyz president says interim government "fulfilled all its tasks"
Rosa Otunbaeva believes the current year was the hardest in the country's history and praised the interim government for performing its tasks.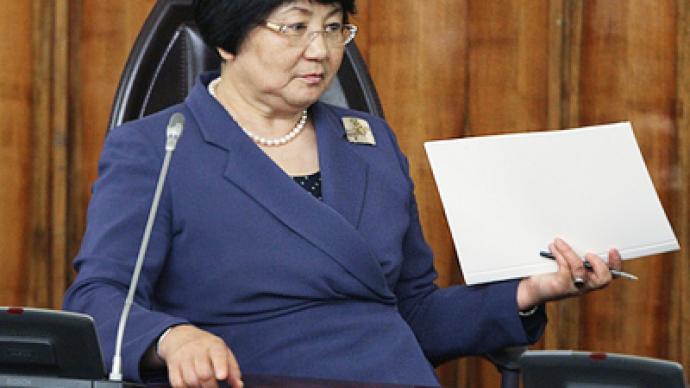 She assumed the country's leadership in April, following the overthrow of then-President Kurnmanbek Bakiyev. There was not such a difficult year in the whole of Kyrgyzstan's post-Soviet history, Otunbaeva said in her video blog on Tuesday. Bakiyev fled the country during riots, in which about 90 people were killed. Several hundred reportedly died in ethnic clashes between Kyrgyz people and Uzbeks in June.    Summing up the year's results, the president thanked the members of the interim government for successfully fulfilling their duties. Recently that government adopted its last decree regarding self-dissolution. "The interim government that came to power on the night of April 8 took serious commitments to solve seven most important tasks," RIA Novosti quoted Otunbaeva as saying. These tasks included holding "honest and democratic elections" and changing the constitutional system, she noted. Kyrgyzstan is now a parliamentary republic rather than the presidential one."We have solved all the issues," the president said. The latest handover of power to "the legitimate government" was peaceful, she stressed. "Let this interim government be the last interim government," Otunbaeva noted. The Kyrgyz president also thanked representatives of civic society and non-government organizations for the work they have done in the country.Meanwhile, two Kazakhstan's public organizations – the Muslim Committee on Human Rights in Central Asia and the Muslim Union of Kazakhstan have named Otunbaeva "the best statesman of 2010." Heading the democratic opposition, she "overthrew the corrupt administration and prevented the country from sliding into a civil war," they said. The organizations intend to nominate her for the Nobel Peace Prize in 2011.
You can share this story on social media: