Former Kyrgyz president charged with mass murder and polygamy in absentia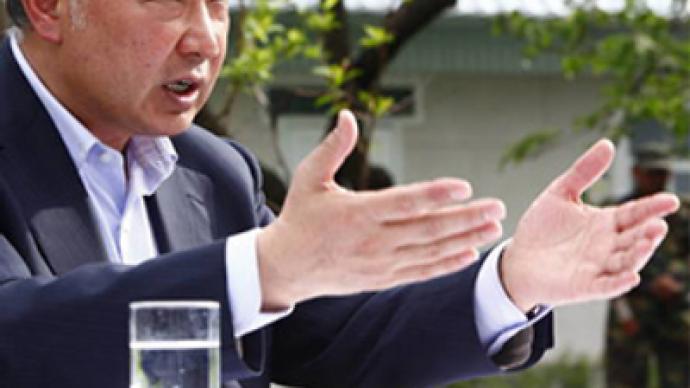 Ousted Kyrgyz president Kurmanbek Bakiyev has been charged in absentia of mass killings, polygamy, and corruption by the interim government and some human rights groups in the country.
On Monday, the Kyrgyz interim government stripped Bakiyev of presidential immunity, and has started talks of his possible extradition from Belarus.
According to Azimbek Beknazarov, the interim legal chief, Kyrgyzstan will seek to put the former head of state on trial for ordering police to fire on demonstrators on April 7. More than 80 people died in violent protests, which led to the overthrow of Bakiyev's regime in the country.
Mr. Beknazarov made note of an extradition agreement signed by Belarus and Kyrgyzstan. He said that documents seeking Bakiyev's arrest are being prepared and will soon be sent to Minsk.
Azimbek Beknazarov also said further charges might be pressed against Bakiyev once he returns to Kyrgyzstan and goes on trial. Bakiyev is also being accused of abusing his political power, letting nepotism run rampant in the country, and distributing high official ranks between his relatives.
The interim legal chief also said a private zoo has been discovered in one of Bakiyev's residences. It is reported the zoo housed several rare and endangered animals, such as a snow leopard, which is on the red list of endangered species.
Kurmanbek Bakiyev has been in Minsk, under protection from the Belarusian president Aleksander Lukashenko, since last week. Bakiyev fled from riot-torn Kyrgyz capital Bishkek of April 7, keeping everyone guessing about his exact whereabouts until last Tuesday, when he resurfaced in Belarus.
On top of allegations of mass murder and corruption, the former Kyrgyz leader may also have to answer to allegations of polygamy.
The leader of a Kyrgyz human rights group "Our Right" Kalicha Urmalieva said the organization has asked law enforcement authorities to launch a criminal investigation to find out whether the former president has broken several laws by being married to more than one woman at the same time.
Recent reports in Kyrgyz press claim Bakiyev had been married to two other women, keeping two families on the side in addition to his official wife. Several years ago, Bakiyev had launched an initiative in the Kyrgyz parliament to re-consider criminal punishment for monogamy. However, the initiative has been turned down by the Kyrgyz lawmakers.
Bakiyev was ousted on April 7 of this year, following protests against his administration in the Kyrgyz capital. More than 85 people died in the violent clashes between the police and the protesters.
Kurmanbek Bakiyev fled the capital, claiming he was still de juro president, refusing to accept any responsibility for the carnage. He later refused to affirm he signed a resignation document, only to reclaim his statements later.
He attempted to regain control in his native town in the south of Kyrgyzstan, but was forced to flee to neighbouring Kazakhstan after his attempts failed.
Bakiyev has not received much sympathy from abroad while Moscow has already expressed its readiness to work with the Kyrgyz interim government, pledging $50 million in financial aid and oil to aid the country's economic situation.
Irina Galushko, RT
You can share this story on social media: