Japanese officials abandon "occupation" rhetoric over South Kurils issue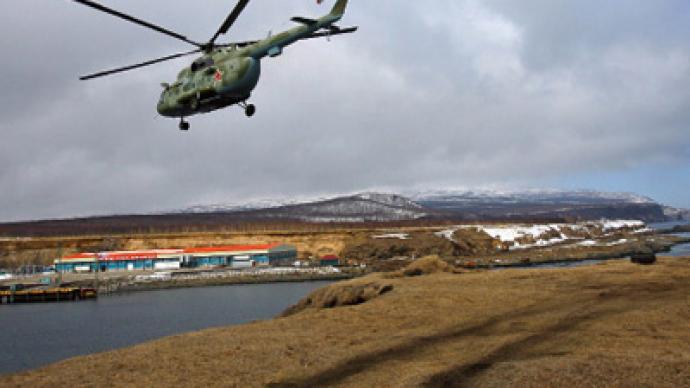 Tokyo seems to have come up with new wording for its territorial dispute with Russia, replacing the word 'occupation' with 'domination'.
The Japanese authorities may abandon provocative wording "illegal occupation" regarding the territorial disputes over Kuril Islands with Russia and Takeshima with South Korea. Foreign Minister Seiji Maehara and Japan's Chief Cabinet Secretary Yukio Edano avoided these words when speaking with MPs on Wednesday. The officials attended a meeting of the lower house's budgetary commission and said the disputed islands, called Northern Territories in Japan, are "under the dominion that has no judicial grounds."  The same formula may be applied to a set of desolate islands called Dokdo in Korean and Takeshima in Japanese, another one of Tokyo's territorial disputes.But the new wording will hardly change Russia's position. Moscow and Tokyo have not signed a peace treaty since the end of the WWII, when the Soviet Union incorporated the four South Kuril Islands.    Prior to his appointment as Tokyo's Foreign Minister, Seiji Maehara accused Russia of "illegal occupation." On February 10, prior to his visit to Russia, he avoided the wording, but referred to the islands as Japan's "indigenous lands." He believes international law was violated when the islands were taken by the USSR.  In December, Maehara inspected the disputed South Kuril Islands aboard a Japan Coast Guard airplane. Last week, Japan's Chief Cabinet Secretary Yukio Edano also viewed the territory from the air. Then he called on the public to be "more vocal", speaking in favor of increasing "awareness" about this issue. Russia described these moves as provocations. And the Foreign Ministry this week summoned the US ambassador in Moscow over Washington's recent statement in support of Tokyo's position on the islands.The Foreign Ministry also called on Japan to make a final choice "in favor of a calm, non-preconditioned, free from ostentatious PR and reciprocal historical references, discussion on the problem of the peace treaty."Commenting on his check up of the islands, Edano said there was nothing "that could spark a negative reaction." Now, after the new political formula ruling out harsh words on occupation was voiced, he and Maehara were criticized by deputies of the opposition Liberal Democratic Party. The taboo for this term would send "a wrong signal," they said.   At the same time, the new formula does not seem to reflect the change of Tokyo' position. The Foreign Ministry's website still contains the occupation rhetoric regarding the dispute with Russia.        Also, Tokyo still registers Japan's citizens on the South Kuril Islands. A total of 175 Japanese have registered the disputed territories as their addresses. Many citizens change addresses as protest to territories the government considers Japanese, and this practice is legal. Almost 70 people have registered as residents of Takeshima.
You can share this story on social media: