Moscow protests flag desecration by Japanese nationalists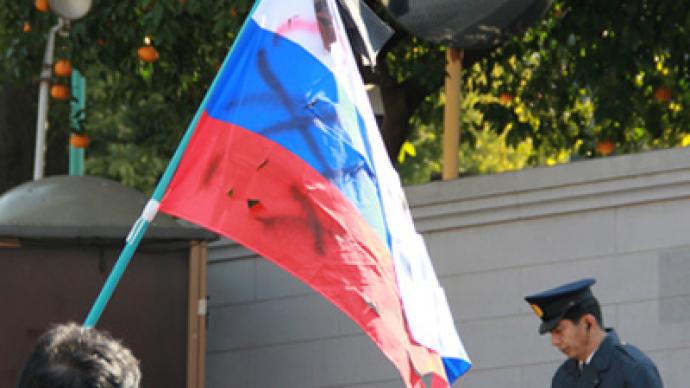 Russia's Foreign Ministry has sent Tokyo a note of protest after a Russian national flag was desecrated in front of the embassy by Japanese nationalists demanding the surrender of the disputed Kuril Islands.
On Monday, which is the so-called Day of Northern Territories in Japan, a demonstration was held in front of the Russian embassy in Tokyo. A group of ultra-right protesters was seen with a torn and stained Russian flag, which they dragged on the ground.Moscow called the act "outrageous and unforgivable" and "an insult". The Foreign Ministry also called "regrettable" the fact that during the rally, Japanese police failed to maintain access to the embassy.Earlier, Russian Foreign Minister Sergey Lavrov criticized Japanese Prime Minister Naoto Kan, who called on Monday the recent visit of President Dmitry Medvedev to the Kuril Islands "an unforgivable insult"."The expressions used by the Japanese officials are far from diplomatic and in great contrast with the polite and friendly tone that was characteristic of the meeting between president Medvedev and prime minister Naoto Kan in Yokohama last autumn. At the same time, as we have said repeatedly, we are still willing to closely co-operate with our Japanese partners in carrying out specific projects in those regions of Russia," the Russian foreign minister said.The Day of Northern Territories has been commemorated in Japan on February 7 since 1981. The date is a reference to the 1855 Treaty of Shimoda, which established official relations between Russia and Japan and which Tokyo believes should determine the status of the disputed territories.
Japanese are dealing with the islands issue with such emotion because they believe it is a matter of national dignity, believes Dmitry Streltsov, head of Asian and African Studies at Moscow State University of International relations.The offensive rhetoric of the Japanese prime minister toward Russia on the annually celebrated Day of the Northern Territories in Japan should be regarded as political ritual and seen as separate to the forthcoming visit of Japanese Foreign Minister Seiji Maehara to Russia on February 10, Streltsov said. He believes people would then not confuse the populist public performance with the real political agenda of the second.
The first reason for Japan's obsession with the island is prestige, because any territorial concessions are traditionally regarded as weakness of the party losing the territory, believes Fyodor Lukyanov, Editor-in-Chief from Russia in Global Affairs magazine, while another reason is the high population density of Japan.The current Japanese government is extremely weak and needs to show teeth and prove its ability to defend national interests and to have the population's support, Lukyanov acknowledged.He is absolutely sure that a small amount of progress could be achieved if the issue is de-politicized and the status question of the islands is put on the shelf as irresolvable.
You can share this story on social media: