US, EU attempt to put pressure on court in Khodorkovsky case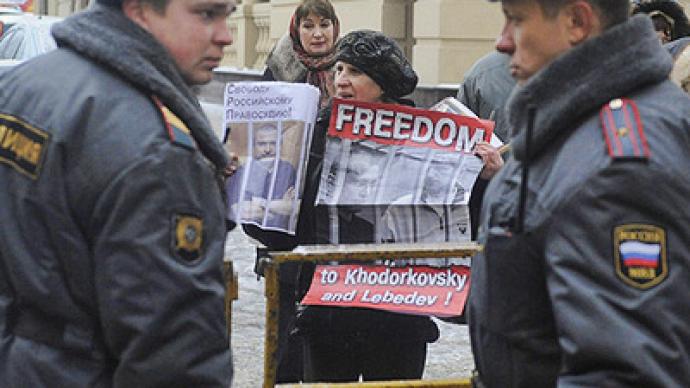 The Russian Foreign Ministry has called statements coming from the US and the EU on the case against the former Yukos head Mikhail Khodorkovsky and his business partner Platon Lebedev unacceptable.
"In connection with the statements voiced in Washington and a number of capitals in the European Union regarding the trial of M. Khodorkovsky and P. Lebedev, we would like to underline once again that this issue is under the jurisdiction of the court system of the Russian Federation. Attempts to put pressure on the court are unacceptable," the Ministry said on Tuesday.
The statement reiterates President Dmitry Medvedev's December 24 interview with Russia's top TV channels. The head of state stressed that, "No government official, and this includes the president, has the right to state their position on this – or any other case – until the verdict – be it an acquittal or a guilty verdict – has been issued."
The foreign ministry said that Khodorkovsky and Lebedev are accused of serious crimes, which are penalized in any country.
"In the USA, by the way, such crimes are punished with life sentences," the statement reads.
Any statements of selective approach in Russian justice are "groundless". Russian courts hear thousands of cases regarding businessmen's legal liability.
The foreign ministry also expressed hope that everyone will mind their own business, "both at home and on the international arena."
On Monday, the Khamovnichesky Court found the two men guilty of embezzling 218 million tonnes of oil from Yukos' subsidiary companies and money laundering.
It is the second case against the businessmen. In 2005, they were found guilty of fraud and tax evasion and are each currently serving an eight-year sentence.
White House spokesman Robert Gibbs stated that Washington considers the verdict "an abusive use of the legal system for improper ends."

­Also read Nikolay Svanidze's and Vladimir Mamontov's columns on the issue