Khodorkovsky criticizes Western nations as second sentence comes in force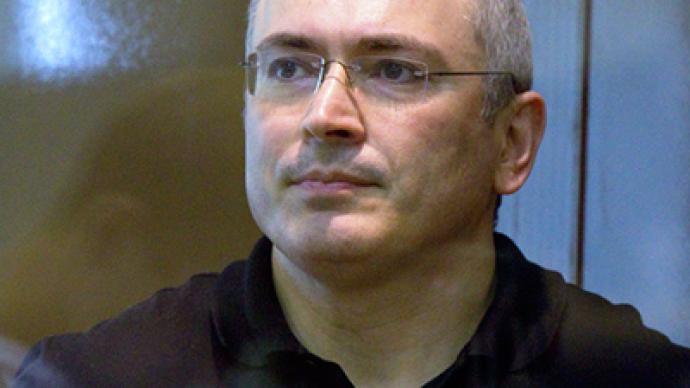 Four Western newspapers have interviewed Mikhail Khodorkovsky as he was preparing to be delivered to the place where he will continue to serve his prison sentence after the second trial.
Reporters from The Wall Street Journal, Le Figaro, Il Mondo and the Frankfurter Allgemeine Zeitung submitted their written questions to Khodorkovsky's lawyers and received written answers. Khodorkovsky said that he was not optimistic on the subject of his potential release. He said that this situation gave him more freedom to defend his views, as his behavior was not affecting either himself or his family and friends, and thus Khodorkovsky pledged to continue fighting for democratization of Russia as he saw it."I am not afraid for myself and life without a goal is not real life. As early as in my childhood, I found very dear the thought that it is better to flash brightly and extinguish than smolder slowly and senselessly. That is the way I live," Khodorkovsky writes.Khodorkovsky also said that in his opinion the Human Rights situation in Russia has not improved and the situation with the supremacy of law has not improved either. He added that the Western nations should partially be blamed for this as good attitude from foreign countries allow Russian officials to justify the clampdown on civil liberties. "The major delusion of certain people in the West is that they consider the refusal to defend the Euro-Atlantic democracy values, property rights and supremacy of law in relations with Russia an exercise in realpolitik," Khodorkovsky writes in the interview. "After they accepted Russia in the G8, it's the moral duty of the other seven members to press for [the] observation of common values in Russia," he writes. Nevertheless, the former oil tycoon supported Russia's entry in the WTO as Russian people should not suffer for the Russian authorities' actions. However, Khodorkovsky said that he continued to believe in Russia's future and hoped that his motherland would take advantage of the historical chance for organized liberalization. At the same time he warned that if the new generation of Russians grows up within the existing system, this could lead to a revolt and no power structures would be able to keep the country under control. On December 30, 2010 Mikhail Khodorkovsky and his business partner Platon Lebedev were found guilty of large-scale theft and money laundering, and sentenced to 13-and-a-half years in prison each. The new sentence was concurrent with the first sentence of eight years in prison, which means that they were to remain behind bars until 2017. In May 2011, the Moscow City Court ruled that the prison term for Khodorkovsky and Lebedev should be reduced by one year and the convicts should remain behind bars until 2016 instead of 2017, having served a total of 13 years in prison upon their release.Khodorkovsky is now waiting to be transferred to a prison camp, but his lawyers and relatives say they have not yet received any information about his future whereabouts which, according to the law, must happen as the transfer takes place. Khodorkovsky's lawyers have announced that they had already filed in a petition for early release.
You can share this story on social media: