Officials' activities in Khodorkovsky's second case probed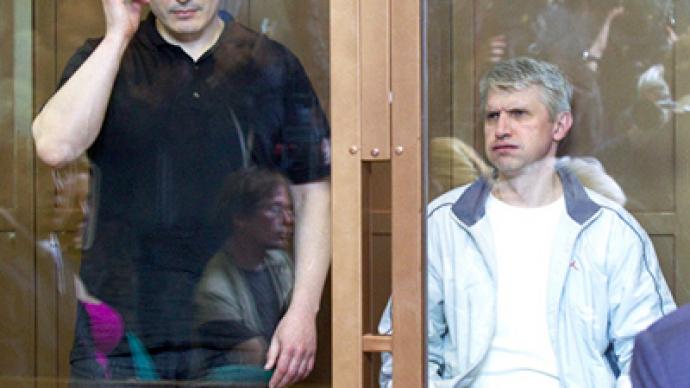 Russia's Investigation Committee has begun a pre-investigation probe after the former Yukos chief demanded that a criminal case be opened against officials involved in his conviction.
The same demand to start a probe into the activities of investigators and prosecutors came from Mikhail Khodorkovsky's business partner, former Bank Menatep head Platon Lebedev.According to the lawyers, the list of officials includes Judge Viktor Danilkin, who sentenced them to 14 years imprisonment, investigators in the case and prosecutors who allegedly "handed down a knowingly illegal verdict." At the same time, the Supreme Court has begun a probe into Lebedev's custody extension complaint.Meanwhile, Moscow's Preobrazhensky court on Monday refused a parole plea submitted by former Yukos CEO who is eligible for parole as he has served half of his 13-year sentence. The parole request submitted by Lebedev, was also returned. The court explained it had received "insufficient accompanying documents" from both men."The plea has been returned with an explanatory letter," the court's press secretary, Lolita Darchiyeva, told reporters. She added that the package of documents submitted was incomplete and insufficient to make a decision.The court received both parole requests on May 30. Khodorkovsky stressed he did not admit his guilt, and was continuing to appeal his conviction. In August 2008, he appealed for early release after serving more than four out of the eight years he was sentenced to in the first case in 2005, but his request was also denied.On May 24, Moscow City Court upheld the sentence for Khodorkovsky and Lebedev in the second criminal case. However, the court changed the verdict of Moscow's Khamovniki Court announced on December 30, 2010 "for theft of oil and money laundering." As a result, the sentence was reduced by one year.The lawyers said the appeals for early release would be submitted again after reworking. On Tuesday, Moscow City Court provided one of the missing documents, the appeal ruling in the second Yukos case, to the detention facility where Khodorkovsky and Lebedev are held. The lawyers will be able to add it to requests of Khodorkovsky and Lebedev, which were submitted earlier. Following the receipt of the appeal ruling, the Federal Penitentiary Service has ten days to decide on transportation of Khodorkovsky and Lebedev to the place where they will serve their term. The lawyers are not sure so far if they will apply again in Moscow for their clients' release on parole.Some human rights activists have already expressed their concern over the court's decision to deny parole requests. Head of the Moscow Helsinki Group Lyudmila Alekseeva said both Khodorkovsky and Lebedev had experienced lawyers and it was unlikely that they would have submitted documents that lack some material. "I just didn't know whether they'd return it or turn it down straight away," she told Interfax.Some politicians and public figures said earlier that Khodorkovsky had a 50-50 chance of getting an early release. Vladimir Kolesnikov, Russia's Deputy Prosecutor General, who was supervising the Yukos case, supported the idea of the release. In his words, it would show the state's ability "to forgive."   The European Court of Human Rights ruled on May 31 that Khodorkovsky's rights were violated after his arrest in 2003 and ordered Russia to pay the former Yukos CEO $35,000 in damages and court costs. But the court stopped short of calling the prosecution against him politically motivated.