Khodorkovsky judge's aide questioned
Published time: 14 Jun, 2011 06:58
Edited time: 14 Jun, 2011 16:54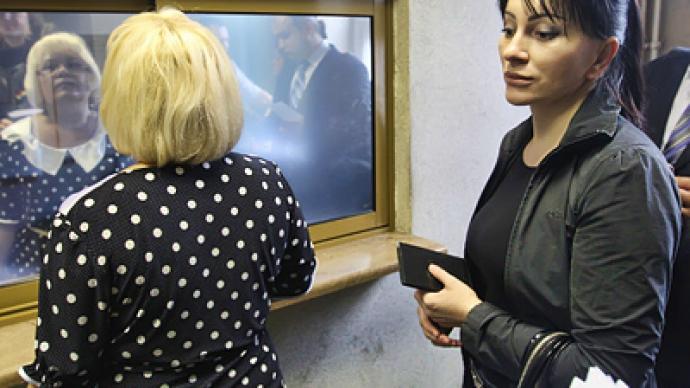 Former press-secretary of Khamovnichesky Court Natalya Vasilieva has faced the Investigative Committee for questioning over her allegations that the verdict in former Yukos head Mikhail Khodorkovsky's case was subject to influence.
­"The Investigative Committee had to check this information, and the defense insisted on that," one of Khodorkovsky's lawyers, Natalya Terekhova, told Interfax on Tuesday. She added that they had also requested that a criminal case be launched over it. 
According to the human rights association Agora, as quoted by the Interfax news agency, Natalya Vasilieva handed investigators three pages of the sentence that they say was drafted, but not read by Judge Viktor Danilkin.

Under this version of the verdict, Mikhail Khodorkovsky and his partner Platon Lebedev were sentenced to ten years in a penal colony each.

Natalya Vasilieva commented that it was by accident that the document got into her folder with other signed papers, Agora said in a press release. 
Official spokesman of the Investigative Committee, Vladimir Markin, stated that Natalya Vasilieva's claims are not true.

"It can be concluded from her evidence that her interview is only based on her guesses and is not substantiated by any objective data," Markin said after the interrogation.

He noted that the former judge's aide acknowledged that Viktor Danilkin did not discuss the details of the Khodorkovsky case with her.

"She does not know to whom he talked over the phone. Neither did she go to the Moscow City Court with Danilkin," he added. "Also, she did not see a sentence for those people [Khodorkovsky and Lebedev] being brought from the Moscow City Court."

Vasilieva's lawyer Irina Khrunova said that during the interrogation she confirmed her previous statements.

"The questioning was rather formal," Khrunova said. "They asked the following questions: 'Did you personally see the judges of the Moscow City Court writing the sentence? Did you personally hear Judge Danilkin receiving advice from the Moscow City Court?'"
Vasilieva insists that her words are not speculation.

"I told them what I knew," she told Interfax.

In February this year, the press-attaché of Moscow's Khamovnichesky Court and judge's aide Natalia Vasilieva claimed in an interview that Judge Viktor Danilkin, who issued a verdict to the former Yukos CEO Mikhail Khodorkovsky and his partner Platon Lebedev, had been pressured. She said that the sentence was written by judges from a higher court – the Moscow City Court. The judge rejected Vasilieva's statements, saying that it was he who wrote the sentence and that he was confident it was just.

Immediately after the interview Vasilieva took sick leave and then resigned from the court. She later said that it was "hinted" to her that she was no longer welcome there.

Her lawyer said on Tuesday that she has not changed her stance and intended to repeat what she had said earlier.

On December 30, Khodorkovsky and Lebedev were sentenced to 13-and-a-half years each in a penal colony for massive theft of oil and money-laundering. They were scheduled to be released in 2017, taking into account six years they have already spent in prison. In May, the Moscow City Court reduced the sentence by one year, moving the date of their release to 2016. Later, Khodorkovsky submitted a request for release on parole. First Moscow's Preobrazhensky Court returned it to the defense lawyers as not all necessary documents were attached to it, but now the full package is before the court. On June 10, it became known that Mikhail Khodorkovsky and Platon Lebedev have already been sent to the colony.